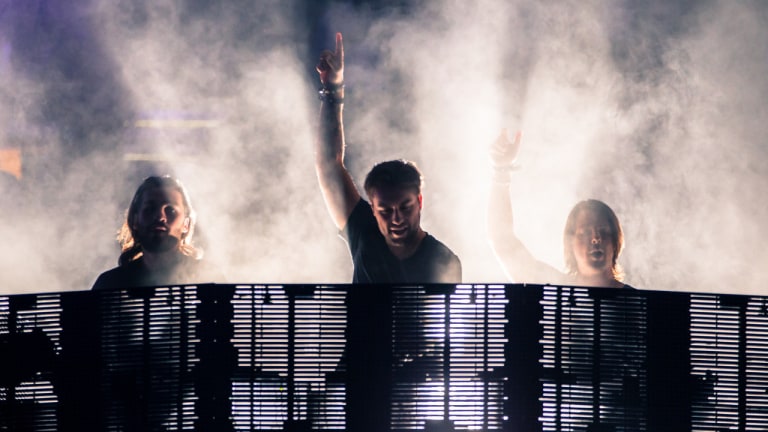 Swedish House Mafia Likely to Play Weekend Festival in Finland
More mysterious Swedish House Mafia Posters have appeared.
Last week fans delighted in the news that Swedish House Mafia would deliver not one, not two, but three festival performances in 2019. If the buzz generated by their slowly unfolding marketing strategy is any indicator, a Finland festival gig may be next on the list.
A Swedish House Mafia fan came across a poster of the trio's three-dot logo somewhere in Finland with "19.07.19" printed across the bottom. The date coincides with that of Weekend Festival, which is slated to take place in Helsinki, Finland.
The performance would come exactly one week after the supergroup's set at Staverfestival in Larvik, Norway. Next year, they are also confirmed for three dates in Stockholm in addition to gigs in Mexico, Denmark and Austria.
Axwell, Sebastian Ingrosso and Steve Angello reunited for their first performance as Swedish House Mafia in five years at the 2018 edition of Ultra Music Festival in Miami. Incidentally, their final performance before disbanding took place at the 2013 edition of the same festival. They have not yet announced any U.S. tour dates for 2019.
The countdown timer presently on the Swedish House Mafia website will run out at 9:00 UTC tomorrow, December 6th, 2019 - at which time they will make another announcement.
H/T: EDMTunes
FOLLOW SWEDISH HOUSE MAFIA:
Facebook: https://www.facebook.com/swedishhousemafia/
Twitter: https://twitter.com/swedishousemfia
Instagram: https://www.instagram.com/swedishhousemafia/
SoundCloud: https://soundcloud.com/officialswedishhousemafia