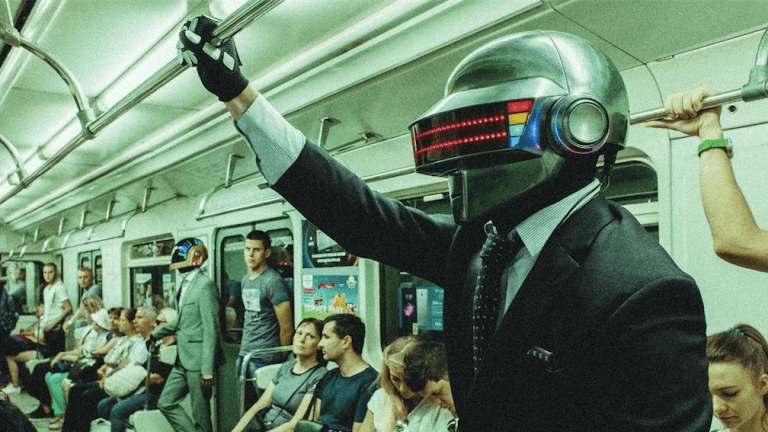 Meet Taft Plunk, a Pair of Ukrainian Daft Punk Impersonators
In case you've ever wanted to see Daft Punk in mundane, everyday settings.
Daft Punk have had many imitators over the years, but few if any have taken their mimicry out from behind the decks. You might call Taft Plunk trailblazers in this regard. In addition to performing "Daft Punk-inspired sets," the Ukrainian duo (consisting of Vlad Fisun and Vladimir Sivash) arrange photo shoots that juxtapose their costumes against a multitude of nondescript settings.
"We asked ourselves what Daft Punk would be doing if they'd never made the big time," Fisun told Mixmag. "I decided I would sit with a cold beer at an old Soviet pub I know and think about the good times."
Among the Kiev locations in Taft Plunk's first photo shoot were a subway, a cafe, an escalator and a "bridge which is a popular place for hipsters." The photos were taken by photographer and filmmaker Olga Babych.
Taft Punk also recorded a mix to honor Daft Punk's French houses roots that included some of their music as well as that of Étienne de Crécy, Motorbass and Benjamin Diamond.
H/T: Mixmag
Follow Taft Plunk:
Facebook: https://www.facebook.com/daftpunk/
Twitter: https://twitter.com/DaftPunkUnchd
Instagram: https://twitter.com/DaftPunkUnchd
SoundCloud: https://soundcloud.com/daftalive