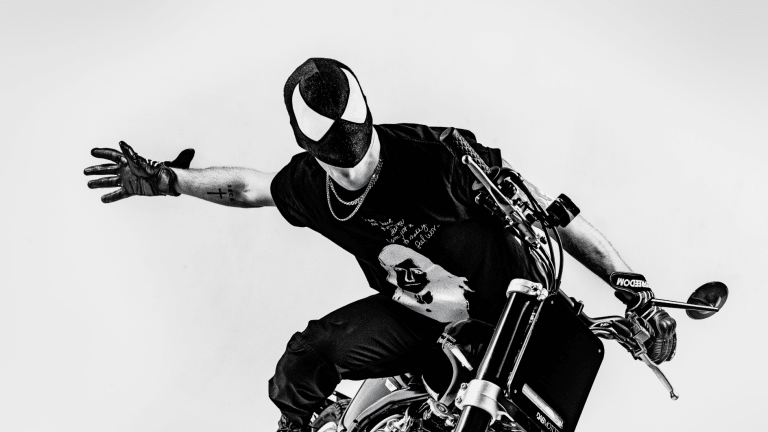 The Bloody Beetroots Team Up with Dab Motors to Release a Line of Limited Edition Motorcycles
The Blood Beetroots went full throttle.
Sir Bob Cornelius Rifo, better known as The Bloody Beetroots, has made a career out of pushing the boundaries of electronic music in a truly punk rock fashion. Dab Motors is a company that has forged a similar pathway in their own field. They create new breeds of motorcycles that go far beyond expectations and traditional norms. Now, these two brands are joining forces to bring the spirit of innovation, style, and non-conformity to a new line of limited edition motorcycles. 
Only 10 bikes will be built and sold in this collaboration, each signed by Rifo and Dab Motors' Simon Dabadie. They will feature a 500cc single-cylinder engine and a thumping motor that will react to even the slightest twist of the throttle. Just as The Blyood Beetroots' music goes full throttle, so too shall these bikes. 
Also featured on the one of a kind motorcycles will be the Kayaba or Ohlins suspension which guarantees a smooth ride. Gear heads will appreciate the Brembo brakes that make sure it will only take mere seconds to halt the bike to a complete stop. To round it all out will be a sleek, blacked-out color scheme aligned with the brand of the famed electronic artist. 
Rifo is continuing to prove that The Bloody Beetroots are back and going nowhere anytime soon. Since celebrating the 10-year anniversary of "Warp," he's gone on to drop his Heavy EP and an impressive collaboration with ZHU titled "Zoning."  
In order to be one of the lucky few to obtain the limited edition motorcycle, head over to thebloodybeetroots.com. They are currently on sale for $18,600. - $23,784. depending on the suspension selected. 
FOLLOW THE BLOODY BEETROOTS:
Website: thebloodybeetrootsofficial.com
Facebook: facebook.com/thebloodybeetroots
Twitter: twitter.com/BloodyBeetroots
Instagram: instagram.com/thebloodybeetrootsofficial