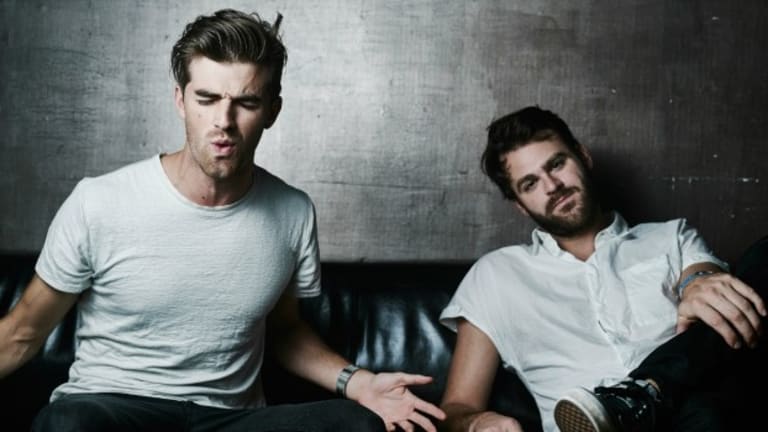 The Chainsmokers Tease Upcoming Blink 182 Collaboration
The Chainsmokers recently spent time in the studio with Blink 182.
EDM/pop punk crossovers appear to be all the rage lately. It wasn't that long ago that Adventure Club and Modern Machines covered Taking Back Sunday's "MakeDamnSure," and they weren't the first by any means. By the looks of things, The Chainsmokers will be next on the list.
In no uncertain terms, Alex Pall and Drew Taggart of The Chainsmokers revealed in a tweet that they spent time in the studio with none other than pop punk band Blink 182. "Just did a session with Blink 182 and wrote an amazing song," they wrote. "We can die happy now."
Blink 182 rose to fame in the late '90s, riding on the staggering mainstream success of albums like Dude Ranch and Enema of the State. The Chainsmokers achieved international superstardom two decades later and through a much different audience. Be that as it may, the two acts have enough in common that fans may not find a collaboration between them to be a forced endeavor.
Neither The Chainsmokers nor Blink 182 have revealed a title or release date for their upcoming collaboration at the time of writing.
H/T: Dancing Astronaut
FOLLOW THE CHAINSMOKERS:
Facebook: https://www.facebook.com/thechainsmokers/
Twitter: https://twitter.com/TheChainsmokers
Instagram: https://www.instagram.com/thechainsmokers/
SoundCloud: https://soundcloud.com/thechainsmokers