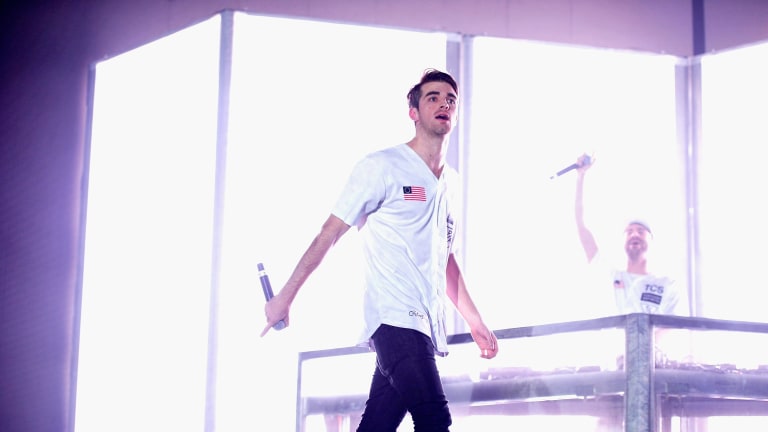 The Chainsmokers' Drew Taggart Receives Songwriter Of The Year Award By ASCAP
Yet another milestone for The Chainsmokers.
Love 'em or hate 'em, The Chainsmokers have undoubtedly shaken up the electronic and pop music industry during the last couple of years, managing to top numerous charts worldwide, collaborate with Halsey, Coldplay, and Florida Georgia Line and host their own massive arena tour. 
Completely embracing their popular appeal, and fully transitioning to releasing pop-electronic tracks for 2018 has definitely not taken away from their identity; they seem as confident as ever with their new direction, leading up to the release of their latest 4-track EP Sick Boy, featuring the homonymous hit single, well crafted "You Owe Me", as well as recently released "Everybody Hates Me" and "Somebody", featuring Drew Love. 
Now, it seems like things can't get any better for the group, as lead singer and producer Drew Taggart just recieved an award for Songwriter of the Year by the American Society of Composers, Authors, and Publishers, in short ASCAP. 
"This is crazy, there are so many people in this room that I really respect and idolize and look up to," is how he begins his short acceptance speech. He proceeds to give respect to legendary figures such as Max Martin and Steve Mac, and also shout out his fellow winner Starrah. Absent was Emily Warren, another person Drew payed his respects to, as she has contributed to the writing of noumerous Chainsmokers songs, such as "The One", "Wake Up Alone" featuring Jhene Aiko, "Don't Let Me Down" feat. Daya and "Sick Boy". Drew interestingly continued: 
"You think, you win an award like this, that means that you know something about songwriting. I still have no fucking clue. Every song, I'm always in a constant state of panic. I don't know if I'm ever going to have a big song again. Somehow me and my best bud Alex Pall keep figuring it out. Maybe this is it, honest it might be."  
Watch the full snippet of his acceptance speech below: