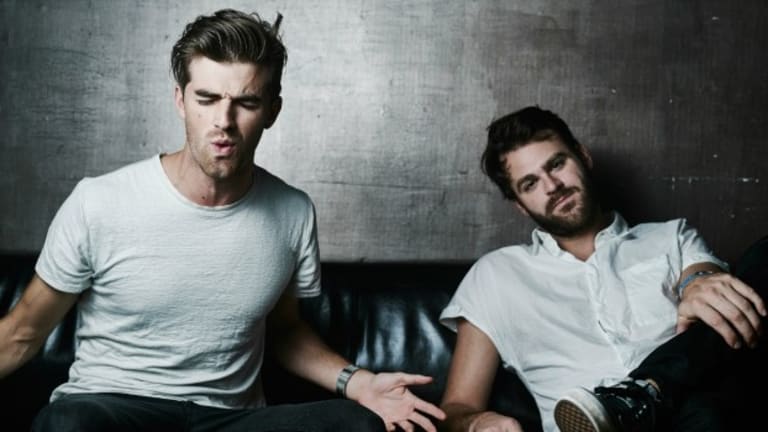 The Chainsmokers make an Attempt to Clear the Air with Lady Gaga
The Chainsmokers take to The Howard Stern Show to clarify the actual issue with last years beef over Alex Pall's comments about Lady Gaga's "Perfect Illusion". Read on to find out
Living in the public eye 24x7, constantly under scrutiny for what you say, eat, wear and do can be rather daunting to say the least. But well, that's the name of the fame game, and if you're not constantly on your toes it could lead to moments of shame. Just like an interview with Rolling Stone from back in October 2016 which went awry for Alex Pall from The Chainsmokers.
During the interview, Pall went on to dismiss Lady Gaga's then newly released track "Perfect Illusion" blatantly saying "It sucks." Being the more diplomatic of the two, at most times at least, Drew Taggart tried to cover up by saying, "She's a great artist -- like, Jeff Koons made a sculpture of her." But that was kind of all in vain. The Twitterverse is rather unforgiving when it comes to beef like this and they took The Chainsmokers down for this one! Artists like Halsey and Mark Ronson came out all guns blazing as well to defend Gaga, all of which Pall and Taggart now say was a misunderstanding which "came out so much worse" than it was meant to be.
Gaga herself however had stayed quiet but had a perfect comeback when during a series of tweets to promote her following single "A-YO" from the album, one was directed at the boys! She mockingly tweeted to them saying she hoped they liked this track better and shared the link. Gaga - 1 -- Chainsmokers - 0!
During a recent slot on The Howard Stern Show, The Chainsmokers went on air to further explain this incident which still doesn't seem to have left them. In the clip below, you can hear Pall explain saying,
"We've since reached out to her and explained, because it was really taken out of context. We were talking about how much we respect her as an artist and everything she's done but that I'm just not a fan of her new song. Of course it came out just so much worse."
Where that respect was at in "It sucks" we're still wondering, but they deserve the benefit of doubt given this public apology eh?
Sometimes lessons are learnt the hard way, and this seemed to be one of those moments for Pall. He went on to say,
"That was a lesson on my part for a lot of reasons. I'm 32 now, and no one's given a shit what I've said for 30 years of my life, not a single f*ck has been given."
He didn't think his opinion on the track really mattered, but once you're a sensation in the world of music, well to say the least, it does. "I felt bad. I don't think it's cool to make those sort of judgments anyway. Keep it to yourself," he added.
They also went on to speak about what it was like working with a legend like Chris Martin from Coldplay and the ordeals of presenting a Grammy among other things! Hear what the duo had to say in the snippets below:
H/T: Billboard