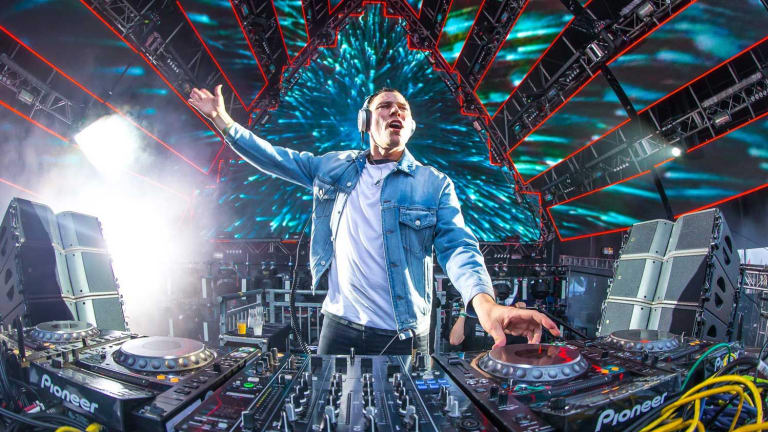 Tiësto, Dzeko, Post Malone, and Preme Go Platinum With Hit Collab "Jackie Chan"
"Jackie Chan" has been purchased/streamed 1 million times over!
Tiësto knows how to pick a team. His mega-collab "Jackie Chan" featuring artists Dzeko, Post Malone, and Preme has officially gone platinum. This means fans have purchased or streamed an equivalent of 1 million times. Tiesto (real name Tijs Michiel Verwest) took to Twitter to share the milestone. 
"Jackie Chan" was released back in May and quickly became this year's summer anthem. Its upbeat, future house vibe paired nicely with Preme and Malone's signature vocals. The blend of genres created the perfect feelgood bop. 
Speaking on the track, Dzeko (real name Julian Dzeko) shared why he thinks pairing hip-hop and EDM is a recipe for success. He said:
"Hip-hop beefs [dance music] up, makes it super energetic. As a DJ, some of the most reactive edits or mashups that you play in your sets are hip-hop. It's cool seeing how hip-hop artists are actually collaborating on EDM tracks, too. I think it's really good. It's definitely something that is going to continue or keep growing -- hip-hop artists working with DJs. Tiësto actually did a song with Three 6 Mafia years ago ["Feel It," 2009]. I'm trying to work with more hip-hop artists, too." 
With the success of the track, Tiësto released the Remixes, Vol.1. There looks to be no stopping the success of "Jackie Chan."
Follow TIËSTO
Facebook: https://www.facebook.com/tiesto/
Twitter: https://twitter.com/tiesto
Instagram: https://www.instagram.com/tiesto/
SoundCloud: https://soundcloud.com/tiesto
FOLLOW POST MALONE
Facebook: www.facebook.com/postmalone
Instagram: www.instagram.com/postmalone/
Twitter: twitter.com/postmalone
YouTube: www.youtube.com/user/postmalone
FOLLOW PREME
Facebook: www.facebook.com/Preme/
Instagram: www.instagram.com/preme/
Twitter: twitter.com/preme
YouTube: www.youtube.com/user/preignking
FOLLOW DZEKO
Facebook: www.facebook.com/Dzeko/
Instagram: www.instagram.com/dzeko/
Twitter: twitter.com/Dzekomusic