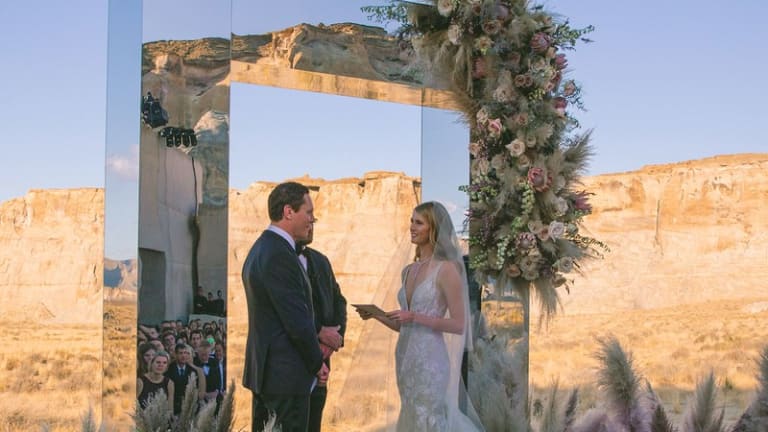 Tiësto Tied the Knot with Model Annika Backes in the Beautiful Utah Desert
The couple exchanged vows during an elegant ceremony in Amangiri.
It's official, Tiësto is off the market. The legendary producer (real name Tijs Verwest) married Annika Backes at the remote luxury resort Amangiri in Canyon Point, Utah on September 21st, 2019. 
The couple first met back in 2015 through mutual friends and immediately hit it off. Three years later Verwest, 50, proposed to the model, 23, over the Thanksgiving Holiday during a vacation in the Maldives. After throwing around with the idea of marrying in Las Vegas, the couple landed on Amangiri, the location at which they had experienced a magical weekend four years prior. 
Being one of the highest-paid DJ/producers in the game comes in handy when it comes to planning a wedding. The pair spared no expense in creating an experience that was the perfect balance between extravagance and intimacy. The contrast between the natural wonders of the landscape and the stunning architecture made for a natural elegance to be enjoyed by the 80 guests in attendance.
In true Tiësto fashion, the reception was made to feel like a nightclub. Even though Verwest is one of the most sought-after DJs in the world, he opted not to perform at his own wedding. Instead, DJ Coleman was put in charge of the decks. The groom surprised his bride by having Coleman play "A Million Years," an original song he had written and produced for her. "This was the track to which they took their first dance as husband and wife. 
Verwest said:
"We wanted to find a DJ that could accommodate any taste. He created a vibe that worked for all of our guests. We didn't want a band because as a DJ you're a lot more flexible and can adjust to any situation. That's why I love doing it in the first place! I also like lots of genres of music that I'm not able to play in my own sets, so that was another reason to hire this particular DJ. He can play all my favorite artists, which include anything from Kanye West to indie pop-rock and ballads."
Congratulations to Tiësto and his new bride Annika Bakes Verwest! 
H/T: Vogue.com
FOLLOW TIËSTO:
Facebook: facebook.com/tiesto/
Twitter: twitter.com/tiesto
Instagram: instagram.com/tiesto/
SoundCloud: soundcloud.com/tiesto