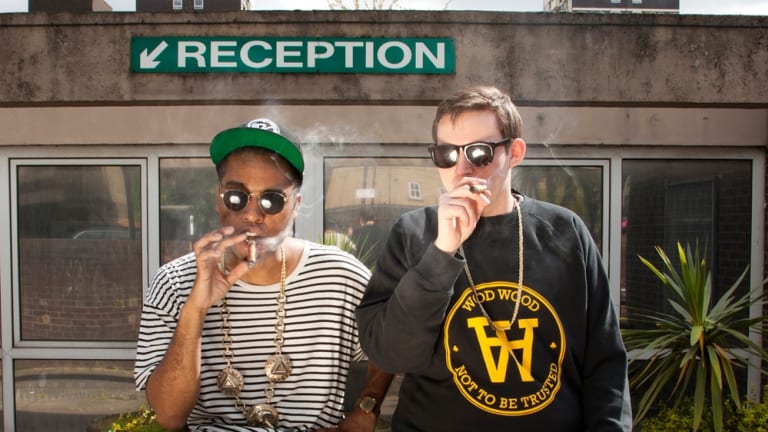 TNGHT May be Teasing their Return
More horns might be coming soon!
Hudson Mohawke and Lunice's trap supergroup TNGHT announced they would be taking an indefinite hiatus in 2013. After some mysterious social media activity, however, it appears a reunion might be in the works. 
Although their Twitter account was not deactivated, they very rarely tweet barring a handful of retweets and replies every couple of weeks. A recent tweet shared by the account shows the popular arms locking meme seemingly representing the duo. 
Since there is no caption we cannot confirm a comeback, however, TNGHT has retweeted a fan saying they can feel "it", implying "it" is their return. Another retweeted fan reminds us that TNGHT has been known to be deceptive on social media and frequently retweets and likes tweets about a potential comeback. 
Run the Trap pointed out a potential clue about TNGHT's return based on this year's advent album from Mohawke's record label LuckyMe.
Every year, LuckyMe releases a free album with songs releasing periodically throughout December, similar to that of an advent calendar. In this year's mix, TNGHT is tagged in the description on SoundCloud. All of the other artists tagged are featured on the album, this has led some to believe this is another sign that new music is on the way. 
In 2011, Hudson Mohawke and Lunice joined forces to become TNGHT. Although they were only around for two years, they released a critically-acclaimed self-titled EP and were featured on Kanye West's album Yeezus. 
Stay tuned for more information on TNGHT's potential return.
H/T: Dancing Astronaut
FOLLOW TNGHT:
Facebook: https://www.facebook.com/tnghtmusic/
Twitter: https://twitter.com/TNGHT
SoundCloud: https://soundcloud.com/tnght