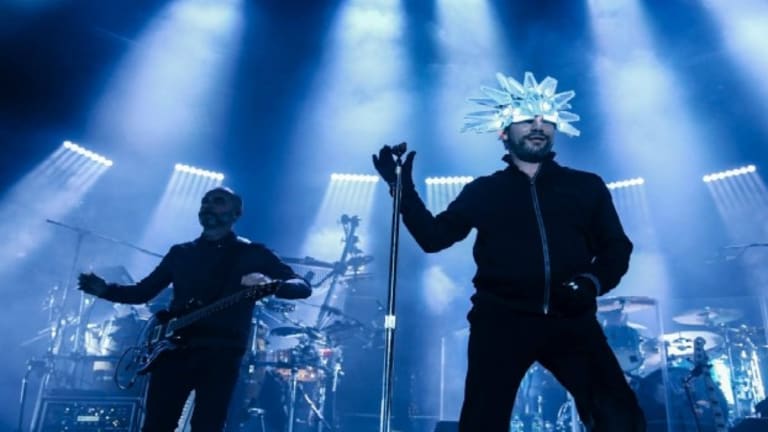 Toby Smith, founding member of Jamiroquai dies at 46
Toby Smith, a founding member of '90s band Jamiroquai, passed away at age 46.
Another icon from the world of music gone too soon! Toby Smith, a founding member of '90s band Jamiroquai, passed away at age 46.
According to a statement posted on Jamiroquai fan site - Funkin, Smith passed away on Tuesday, April 11 and his cause of death was not disclosed.
Smith was a founding member of Jamiroquai and it all began in 1992 with lead singer Jay Kay and members Stuart Zender, Nick Van Gelder and Wallis Buchanan. Smith stayed with the group for a decade and proved an integral part of the band's early success. He appeared on their first five studio albums and his dazzling keyboard playing especially stood out on hit singles like "Space Cowboy", "Virtual Insanity", and "Cosmic Girl". A decade later, he left the band in 2002 to spend more time with his family and later went on to become the manager and music producer of Indie band The Hoosiers.
News of Smith's deaths came in just weeks after the release of the band's first new album in seven years, Automaton. Smith had been fighting a "voracious" illness for a long time, according to the band's Facebook page, but had "shown signs of beating it." However, Sources informed TMZ that Smith lost his life to Cancer. According to TMZ, the band were aware that Toby was battling the disease - but thought he had been close to remission. The Jamiroquai keyboardist kept his bandmates in the dark about his cancer progressing they said. Sources close to the band mentioned they were all aware Toby had cancer, and also that he'd been battling it for a few years, but they were under the notion he was close to remission. He never let on his condition was deteriorating and, in fact, they were optimistic. One source described Toby's passing as a "Surprise and complete shock."
On the band's Facebook page, they posted a lengthy note remembering Smith, noting without him there would be no Jamiroquai.
In a memorial post, Stuart Zender, the band's original Bassist writes of Smith,
"All my fondest memories are of him and the band that we created. The most talented musician I have ever had the honor to make music with. There will never be another like you Toby."
He also continued to say,
"Your light will shine on eternally. Thank you for making mine and everyone's life so bright."
Coldplay guitarist Guy Berryman also tweeted out a heartfelt post from the band's official Twitter account, proclaiming that he would be listening to Jamiroquai's debut album in Smith's memory.
Kay encouraged fans to do the same in the band's Facebook post saying,
"All you have to do is put his music on, wherever you are, whatever your mood, and let his amazing alchemy of chord structure, his mastery of timing, and his effortless and eloquent solos, get under your skin, right into your soul, and make you smile at the world, not matter how bad it seems."
Smith's death comes 15 years after his departure from the band, and just weeks after their latest release, Automaton.
But in his memory, let's revisit Jamiroquai in their heyday while grooving to "Space Cowboy."
R.I.P. Toby Smith, you shall be missed!