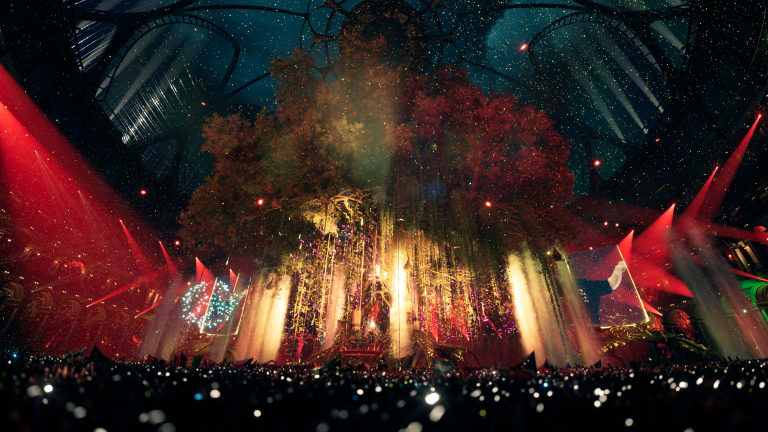 Tomorrowland is Planning Another Virtual Festival for Summer 2021
A new report has revealed plans for a follow-up to the iconic Belgian festival's 2020 Tomorrowland Around The World virtual event.
As the dates of its 2021 festival hang in the balance due to the uncertainty of COVID-19, the organizers of Tomorrowland have confirmed a virtual event.
Back in July the fabled festival brand aired its first-ever digital edition, Tomorrowland Around The World, tapping David Guetta, Martin Garrix, Eric Prydz, Charlotte de Witte, and many more for performances and attracting over 1 million viewers from an exhaustive list of countries.
Organizers then followed with a momentous virtual fest on New Year's Eve, broadcasting an expansive slate of performances from elite DJs performing on the brand's curated 3D stages. The event brought together fans from a staggering 151 countries.
A new report by Billboard has uncovered plans for a second edition of Tomorrowland Around The World, the dates of which are yet to be revealed.
In March the physical version of Tomorrowland was rescheduled, citing the impact of COVID-19. Both weekends of the iconic music festival's 2021 edition were moved, with Weekend 1 pushed to August 27-29 and Weekend 2 to September 3-5. Fans can expect more information on safety measures and guidelines from Tomorrowland organizers on Tuesday, May 11th.
"We're still positive, although we realize we're in a very complex situation," Tomorrowland co-founder Michiel Beers told Billboard.
As of April 2021 14% of Belgium's adult population has received at least one dose of a vaccine, according to The Brussels Times. The number of new COVID-19 cases has dropped 19% over the past seven days, reports Euronews, and Prime Minister Alexander De Croo said a peak might have been reached. However, the situation in hospitals remains "critical."
FOLLOW TOMORROWLAND:
Facebook: facebook.com/tomorrowland
Twitter: twitter.com/tomorrowland
Instagram: instagram.com/tomorrowland