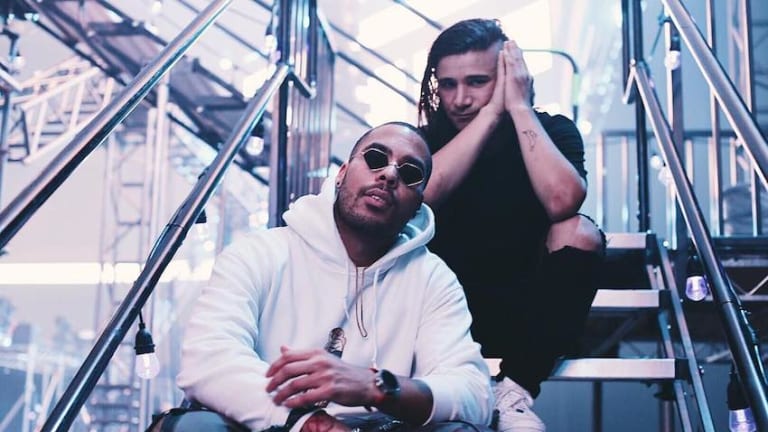 TroyBoi Premieres a Bouncy New Collaboration with Skrillex
The Soundclash star announced a massive new collaboration with Skrillex.
Fans of the British trap producer, TroyBoi were treated to a sneak peek of his upcoming collaboration with Skrillex. A video of the then-unannounced track was uncovered this weekend on Reddit before TroyBoi took to Instagram to confirm the track himself. 
In typical TroyBoi (real name Troy Henry) fashion, the track starts out with his signature "T-R-O-Y-B-O-I" calling card before introducing Skrillex (real name Sonny Moore) to the mix.
Although we only have a short clip of the unnamed track, the bulk of the video highlights TroyBoi's bouncy trap sound with some of Skrillex's famous choppy vocal samples scattered throughout. 
TroyBoi released his V!BEZ Vol. 2 EP late last year. In an interview with the man himself he spoke on what separates his V!BEZ series from the rest of his releases: 
"It's different because V!BEZ is my chance to just let my creativity run wild. I love to create a wide variety of music, so this is the perfect project to showcase that and introduce people to new ideas."
On the other side of the coin, fans of Skrillex have been delighted to see the return of the eight-time Grammy-winning producer. Alongside upcoming appearances at Ultra Korea and Miami (as Dog Blood) it was recently announced that he has an Ekali collaboration on the way.
H/T: Your EDM
FOLLOW TROYBOI:
Facebook: https://www.facebook.com/troyboimusic
Twitter: https://twitter.com/troyboimusic
Instagram: https://www.instagram.com/troyboi_music/
SoundCloud: https://soundcloud.com/troyboi
FOLLOW SKRILLEX:
Facebook: www.facebook.com/skrillex
Twitter: twitter.com/Skrillex
Instagram: instagram.com/skrillex
SoundCloud: soundcloud.com/skrillex