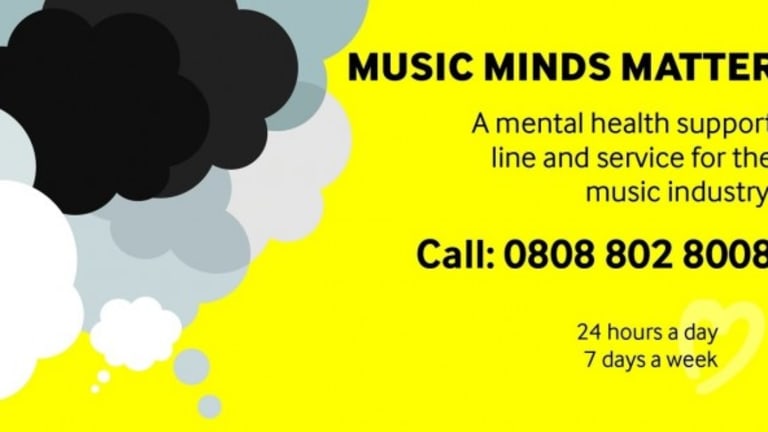 Help Musicians UK is Leading the Discussion on Mental Health in Music
A UK based charity is making dedicated mental health support for music industry professionals just a phone call away.
The physical and mental health challenges that musicians face is no secret. Or is it? When tragedies like the death of Linkin Park frontman, Chester Bennington, happen, the music community is left wishing we'd had a way to help. Help Musicians UK is giving us a way.
The company exists to help musicians in times of transition and crisis, like being out of work, becoming ill or injured, even old age and retirement. , Help Musicians UK began a campaign to offer at-request support to anyone in the music industry; Music Minds Matter. This week, the organization announced a 24-hour hotline offering multi-channel support to UK's music professionals.

From the website:
Music Minds Matter is the industry's most comprehensive service yet – linking advice, signposting, clinical pathways and professional therapeutic services to Help Musicians UK's (HMUK) traditional grants for musicians in need.With 96 years of experience, HMUK understands the complexity of working in music and recognizes the need for support to reflect the nature and unique challenges those in the industry can face."
The new nationwide service is a result of extensive research into the working conditions of the music industry. In 2016, as part of the charity's Music and Depression (MAD) campaign, they spearheaded the world's largest known study of musicians' mental health. The study, Can Music Make You Sick?, found that musicians of any genre are three times more likely to suffer from anxiety and depression than non-musicians, and that 53 percent of musicians surveyed "did not find it easy to get help" for mental health related issues.

Since the study was released, Help Musicians UK's health and welfare division has seen a 22 percent increase in requests for mental health support directly from musicians.
UK musicians and industry figures can call 0808 802 8008 24/7 for emotional or clinical support at no charge.
Hopefully, the important work HMUK is doing will spread to other countries, because every musician - and their crew - need support.
You can donate to Help Musicians UK and the Music Minds Matter campaign here.
H/T: Dancing Astronaut