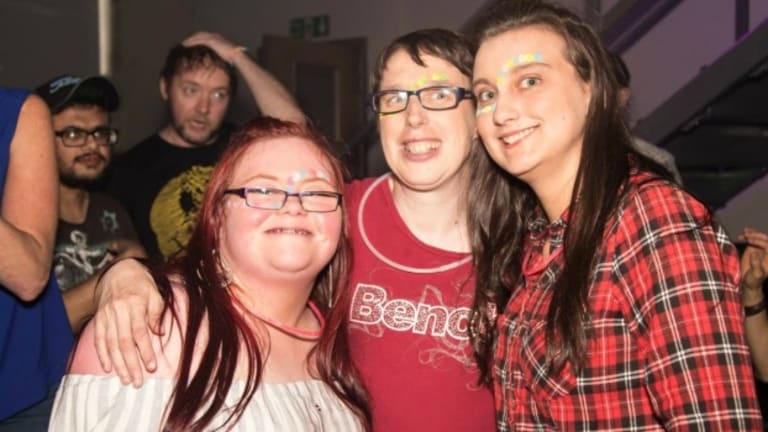 Manchester People First Hosts a Rave For Dance Music Fans With Learning Disabilities
Cause everybody has the right to have a haven to enjoy great music and dance...
Music is truly a universal language, no matter what or how you hear it, feel it or experience it, it truly IS the language for all. And when it comes to music aficionados, they come in all shapes and sizes too!
Self advocacy group Manchester People First tapped in on this fact with club promoter Meat Free to set up the first ever rave for music fans with learning disabilities. The night was hosted at Texture Nightclub and turned out to be a dream come true for many attendees with disabilities.
BBC documented the event and recently released a video about the evening. The focus of the 3 minute feature introduces us to Shane, an aspiring DJ with learning disabilities and the overarching feeling that these individuals fear during a nightout at a regular club. There are mentions about how there are instances of bullying after people get drunk, how these individuals with disabilities get picked on in many circumstances and the general unwelcome feeling.
By way of special events such as this, Manchester People First and Meat Free along with the venues are creating a safe and secure environment for people with learning disabilities to come together and let loose to enjoy unabashedly to the music they love and dance it out! Along with having the company of each other, it also turned into a great way for the support workers to bond with people they look after in a fun environment. The entire experience from the excitement of neon make-up application to the moment when the drop hits and they dance to gay abandon, this sold out event was a success to say the least.
Speaking about how they have always wanted to expand and make dance music more accessible to the realm outside of the regular dance music community they attract, Alice Woods of Texture nightclub says their mission with the event is to create an "inclusive, fun environment with really good music at its core."
After the evident success of the very first event as the heartwarming footage showcases, Meat Free have announced that more such events will follow suit. A recreation of the all-inclusive environment of the event, Under One Roof, where attendees have the freedom to be their true selves, dance - lose themselves to the music and just be happy!
As Shane starts of to say "I love raving, I love partying and I love dancing," then again don't we all? And isn't it only fair that people with learning disabilities have equal opportunities to enjoy those nights in a judgement-free atmosphere? More power to Manchester People First and Meat Free!
H/T: Resident Advisor