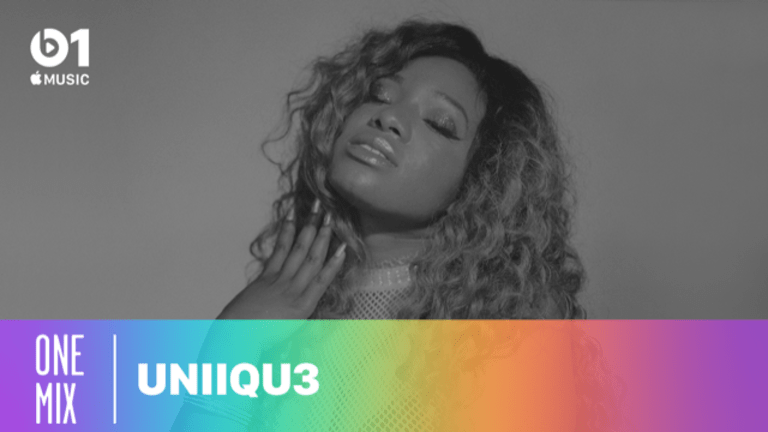 Beats 1 One Mix Celebrates Pride Month With UNIIQU3
The Newark native brings Jersey Club to Beats 1 One Mix.
Pride Month is in full bloom and Apple Music is a part of the celebration. Throughout June, the music streaming service is hosting 16 exclusive mixes from LGBTQ+ DJs like Andrew Bayer, Ducky and J.Worra.
Robby Engle, Apple Music's Dance Programmer mentioned, "we wanted to do something special with LGBTQ+ DJs as they've been an integral part of shaping dance music's culture and sound since the beginning. Over the past year or so, we've prioritized DJ mixes and representing dance culture as authentically as possible at Apple Music, so this was a perfect opportunity to invite some of our favorite artists to create a DJ mix to celebrate Pride."
This weekend, Beats 1's weekly radio show One Mix will feature a special Pride set from Jersey Club queen UNIIQU3. Known for spreading the fast-paced, upbeat Jersey Club sound to the masses, UNIIQU3's going to bring a high octane selection of songs with bouncy beats to One Mix.
Tune in here, exclusively on Apple Music.
Air Date: Friday 21st June 2019 - 12:00 LA / 15:00 NY / 20:00 LDN
A few years ago, UNIIQU3 (real name Cherise Gary) was working at a liquor store. Then, she went from dancer to DJ to all-around artist. The Newark native sings on her tracks, produces them and crafts the bounciest mixes booming the Jersey sound.
Gary's one of the first black female DJs to perform on Holy Ship! and one of the few dance music producers bold enough to get political with her music. She's collaborated with dance music icons like Diplo, Skrillex, A-Trak, and Anna Lunoe, plus popular brands like Givenchy and H&M. Her DJing ability has led her to features on BBC Radio 1, Resident Advisor, and the underground sensation Boiler Room.
Catch her One Mix to hear what she's all about.
Follow UNIIQU3
Facebook: facebook.com/UNIIQU3MUSIC
Instagram: @uniiqu3music
Twitter: @UNIIQU3
SoundCloud: soundcloud.com/uniiqu3