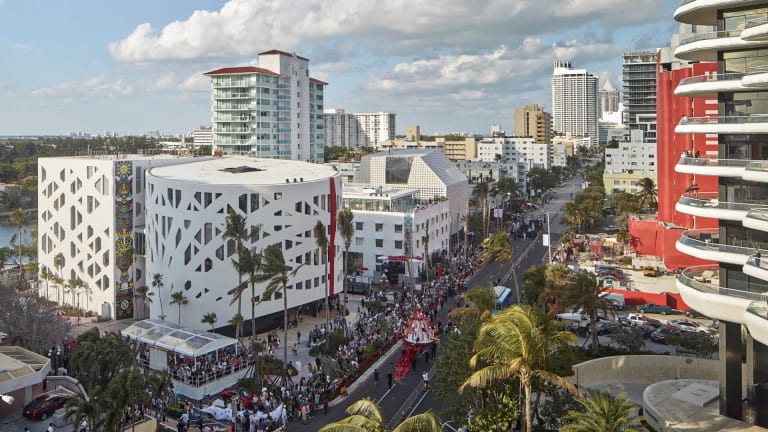 WMC 2019 Announces First Wave of Panelists
WMC 2019 panelists include EDM.com, The Nations, Beatport, MERLIN, Geffen, Red Bull Music, The District and more.
Winter Music Conference (WMC) at Faena District is set to take place March 25th-28th, 2019 at the Faena Forum on Miami Beach. For those interested in attending the incredibly wide variety of exciting music industry panels, the first wave of panelists who will lead panels, fireside chats, and breakout sessions - the list is a doozy! 
Representing the many key facets of electronic music culture, these esteemed participants will join previously announced keynote speakers Douglas Rushkoff, Armin van Buuren, Irvine Welsh x DJ Pierre, Sam Feldt, and Laidback Luke. More will be announced in the weeks leading up to the event.

WMC's programming is spread across two distinct segments targeted at industry professionals as well as music consumers, college students and aspiring DJs/producers looking to learn more about the industry, and the music, technology and culture that powers it. The first tier of badges is already sold out, so make sure to get yours now before prices go up.
Panelists:
Alec Stern – DDB Chicago / We Are Unlimited
Alex Jukes – Jukebox PR
Andre Willem – The Nations
Andrew Neil – Circus Records / MB Management
Armin van Buuren – DJ/Producer
Aundy Crenshaw – Dirtybird
Carl Cox – DJ/Producer
Carl Loben – DJ Mag
Charlie Shrem – Crypto.iq
Chris Clark – Leo Burnett USA / HKX
Chris White – Merlin Collective
Christian Smith – DJ/Producer
Dan Petruzzi – Mixcloud
Daniela Paez – dmusicMarketing
Declan Ee – DJ/Producer
Deron Delgado – Dirtybird/Paradise Distribution
DJ Pierre – DJ/Producer
Douglas Rushkoff
Erick Morillo – DJ/Producer
Ethan Baer – EDM.com || Artist Intelligence Agency
Greg Marshall – Association For Electronic Music (AFEM)
Harrison Williams – Mixmag
Harry Romero – DJ/Producer
Harry Willis – I Am Pop
Heiko Hoffman – Beatport
Irvine Welsh
Jakub Alexander – Symphonic Distribution
Janette Berrios – Symphonic Distribution
Jeremy Waks – Debris Free Oceans
Jesse Grushack – UJO
Jorge Brea -Symphonic Distribution
Jorn Heringa – Spinnin Records
Josh Carr-Hilton – The District
Juan Pablo Salcedo – David Lewis Productions
Junior Sanchez – DJ/Producer
Kayzo – DJ/Producer
Kevin Lewandowski – Discogs
Laidback Luke – DJ/Producer
Luis Estrada – Aftercluv/Universal
Matt Colon – Deckstar
Max Weinberg – Geffen
Maykel Piron – Armada Music
Michael Weiss – Nervous Records
Mike Darlington – Monstercat
Mike Ladman – Droga5
NGHTMRE – DJ/Producer
Nick Gordon – Symphonic Distribution
Nicole Moudaber – DJ/Producer
Nik Kinloch – Discogs
Olga Heijns – Unmanageable Artists
Pete Kalamoutsos – Echostage
Posey Collis – Orca Sound Project
Richie Hawtin – DJ/Producer
Roger de Graaf – Spinnin Records
Salo Sterental – Sostereo
Sam Baum – Red Bull Music / Red Bull Radio
Sander van Doorn – DJ/Producer
Sam Feldt – DJ/Producer
Seth Combs – Beat Fever
Slander – DJ/Producer
Stephanie LaFera – Little Empire Music
Tim Heineke – I Am Pop
Travis Rogers – Humans Alike
Valerie Lee – Mixmag
Vasja Veber – Viberate
Vivian Belzaguy – Ultra Music Festival
Whipped Cream – DJ/Producer
William Morris – Esports Expert
Yuri Dokter – DJ Monitor
More keynote speakers and panelists will be announced soon, and a description of the different WMC badges can be found below.
WMC // Access Panels:
Breaking In: How to Get Your Start in the Electronic Music Industry
Signing with the Future: How Labels Utilize New Technologies for Sustained Growth
Surviving Indie: Innovation and Brand Building as an Independent Label
Spinnin' Records Panel with Special Surprise Guests
Daily Artist panels including Bass, House, Techno, Drum & Bass Genres
Digital Collision: The Convergence of Esports, Gaming and Electronic Music Culture
The Bleeding Edge: Shaping the Next Wave Of Electronic Music Culture
WMC // Industry Badge (upgrade) Exclusive Panels:
The Death of the News Feed: Using FB Messenger to Effectively Reach Your Followers
The Data Solution: Viberate Presents Current Market Trends And Analytics Strategy
Music Placement – How to Get Your Music Synced With Brands, Films, TV and Advertising
Brands x Artists x Culture: How to Create an Authentic Music Strategy
AFEM Presents – Get Played Get Paid: How the Rise of Music Recognition Technology at DJ Events Could Put Money in Your Pocket
Practically Green: Environmental Solutions for the Music Industry
Presentation by Grammy.com/Recording Academy/MusiCares with a Very Special Guest
Stay tuned for a big announcement about the 2019 International Dance Music Awards (IDMA).
FOLLOW WINTER MUSIC CONFERENCE:
Facebook: facebook.com/wintermusicconference
Twitter: twitter.com/WMCtweets
Instagram: instagram.com/wintermusicconferenceinc