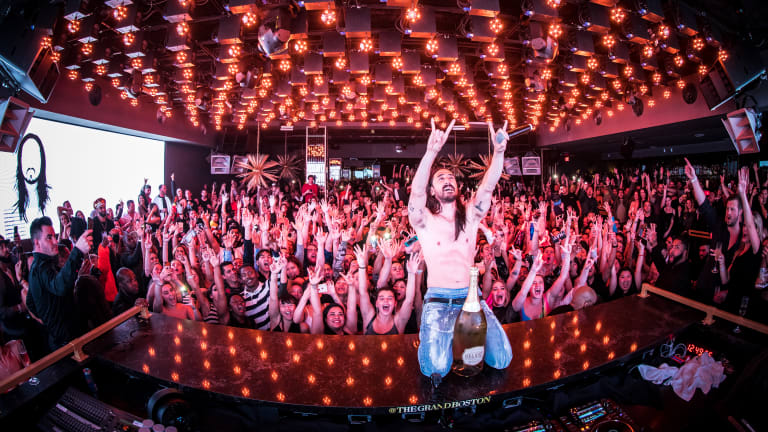 Wynn and BNEG Nightlife Set to Debut New Boston Nightclub: Mémoire
The opening week lineup features Steve Aoki, Shaq, R3hab and more.
Big Night Entertainment Group (BNEG), Boston's top hospitality and nightlife company, has teamed up with Wynn to launch the new luxury nightclub Mémoire. It will make its debut at the upcoming resort Encore Boston Harbor. The 8,000 square-foot club is set to be the epitome of the VIP lifestyle.  
BNEG Principal Randy Greenstein said:
"We are beyond thrilled to introduce Mémoire and to be a part of the incredible Encore Boston Harbor project. Mémoire will offer a high-energy nightlife destination within the five-star property, regularly welcoming top DJs and nightlife talent from around the world. At Mémoire we wanted the guest experience to be unlike anything else in Boston, blending the most state-of-the-art technology available with glamourous and sophisticated décor. The result is a space that's really high energy and captivating while still offering that luxurious and VIP experience."
The opening weekend is set to kick off June 23 and features Dutch-Moroccan DJ/producer R3HAB. Following him will be a lineup of some of the top acts in electronic music. Steve Aoki will be taking the stage June 24th, well equipped with champagne and cake galore. June 27th will feature the large and in charge act of DJ Diesel, AKA Shaquille O'Neal. The guard rails for this new club better be able to withstand the force that Diesel has been known to deliver. 
On June 28th, multi-platinum electronic music trip Cheat Codes will be the featured artist. They are followed up by the Los Angeles DJ, Vice. Finally, Don Diablo is set to close out the opening week on June 30th.
Encore Boston Harbor is opening 15 dining, lounge, and casual food offerings in the massive three-million square foot resort. This is set to become Boston's one-stop shop for entertainment. 
Big Night Entertainment Group is adding Mémoire to the family of successful clubs that include The Grand, Explorateur, Empire, and many more. 
FOLLOW MÉMOIRE NIGHTCLUB:
Website: memoireboston.com
Instagram: instagram.com/MemoireBoston/