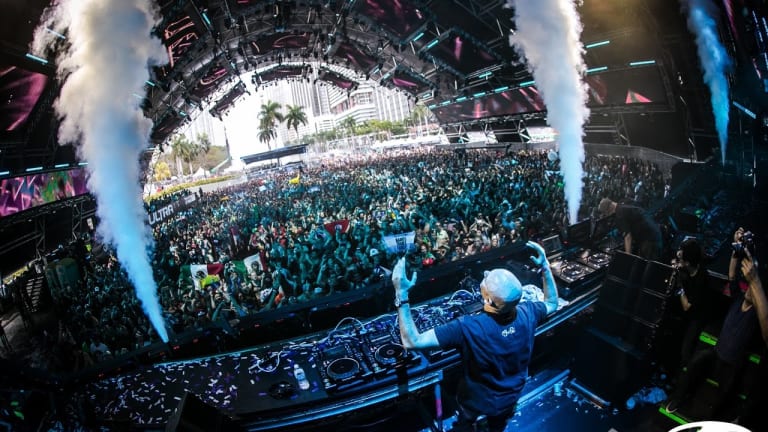 EDM DJs are Returning to Trance, But is it a Good Thing?
Many of our main stage favorites got their start in Trance before eschewing the genre for big room EDM, but now they're going back to their roots.
The A State Of Trance stage at Ultra Music Festival in Miami is known for raising some debate among the Trance fans.
Last year, the presence of progressive masters Eric Prydz and Deadmau5 gained a lot of attention, while this year's discussion was all about the comeback of former Trance stars who left the scene for a more Bigroom/commercial EDM sound. Is this a good development for the genre?
Growing Trance Scene
The signs that the Trance genre is rapidly growing, are all over the place. At the start of this year, the track "Saving Light" by Gareth Emery, Standerwick and Haliene became the first Trance track has claimed the #1 spot on Beatport in several years. Besides that, Trance festivals are popping up all over the world. In 2015, Insomniac launched their own Dreamstate concept, with which they organize Trance festivals all over the US and beyond. In Europe, ALDA expanded Electronic Family into a two-day festival, and ID&T brought the legendary Trance Energy back to life with a stage at Tomorrowland.
The ASOT line-up on this year's Ultra Miami brought something new to the table. Artists that left the Trance sound years ago, suddenly returned to their roots with a Trance alias. Among them were Sander van Doorn presents Purple Haze, Arty presents Alpha 9, and W&W presents NWYR. At first, the reactions were enthusiastic. However, criticism wasn't far away.
All About the Money
Different artists have been indicating for a while now that the ''EDM-bubble'' is slowly deflating. Because of that, DJs that were once part of the genre's quick rise in popularity may soon be searching for a new (or old) way to keep their careers alive.
Tommie Sunshine, for one, is waiting for that one talent with a completely new sound to break apart ''The Chainsmokers groove,'' whereas Mark Sherry forsees that established ''EDM'' DJs will make a comeback to Trance or Techno. Artists like Mark Sherry, for example, that stayed true to the genre over the years, solemnly argue that for them the genre never actually ''died,'' as some people around the scene often state.
John O'Callaghan made his sentiments known with one statement that Trance lovers had long been waiting for. At the ASOT 800 festival, Armin van Buuren asked the Irish producer what his take on the Trance comeback of many ''commercial EDM'' DJs is.
He responded firmly by saying:
''To be quite honest with you, it's about how much money DJs wanted to get paid. So, if they wanted to earn more money playing commercial music, that's where they went. So, if you're powered by your wallet that's where you go, but if you're powered by trance then you stay where you love.''
As the ''EDM-bubble'' slowly deflates, artists that were part of the genre's quick rise in popularity might be soon be searching for a new (or old) way to keep their career going. O'Callaghan's statement obviously relates to the artists that left the genre to make commercial music, including the ones that decided to return to their roots. This includes Sander van Doorn, Arty, and W&W, who later made an appearance on the ASOT line-up a few weeks later at Ultra.
Ironically, Armin indicates that he agrees with John, by saying ''Exactly.''
The question is: will these comebacks push the growth of Trance music further, or will the legitimacy behind it be questioned even more?

Listen to the UMF sets from Sander van Doorn and W&W below, and let us know your take on their Trance comeback!