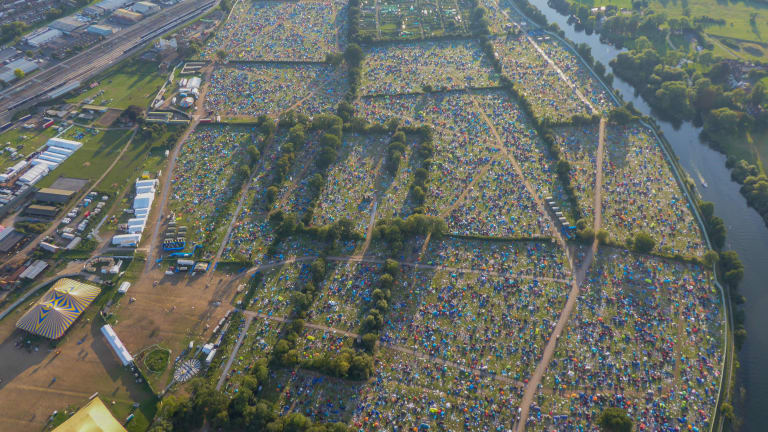 How Music Festivals are Destroying the Earth [Opinion]
...And what we can do to fix it.
The global environmental crisis is certainly not a new topic - and if you think it is a debatable one, then you might as well also believe that the earth is flat, dinosaurs are a hoax, and the earth is only 5,000 years old. For the rest of us, it's clear to see that the earth is suffering. Global temperatures have been rising exponentially since the 1960s, microplastics suffuse every single biological niche, unstoppable fires rage across the globe… The list goes on.
Unfortunately, though music festivals may be the lifeblood of the electronic music industry (and the music industry as a whole), and though they might be one of this generation's greatest bastions from the bullshit of the world, they are also doing an irreversible amount of damage to the planet. Read on to learn how it's happening, as well as what we can do to fix it.
Waste
The most visible impact that music festivals have on the environment is the incredible amount of waste they produce. Any festival attendee can surely attest to overflowing trash bins, "ground scores" (A.K.A. garbage) galore, and a wanton disregard for where to toss that beer can or gum wrapper.
Major music festivals like Coachella (250,000 attendees over two weekends) generate an average 106 tons (212,000 lbs) of waste per day, which is greater than either the total weight of the Space Shuttle Endeavor plus its full payload, or a fully-loaded Boeing 757 and its 300 passengers.  For context, the average American produces about one ton of trash per year.
With over 800 festivals in 2018 in the U.S. alone, the global implications are absolutely mind-boggling. 
Energy consumption
With tens of millions of people attending music festivals every year worldwide, energy consumption and emissions from these events is a serious factor that is often overlooked. As the vast majority of music festivals are in remote areas off the grid, music festivals must rely on importing power, rather than connecting to pre-established energy grids. Most often, this means trucking in massive, diesel-powered generators to provide round-the-clock electricity for sound systems, stage lights, flood lights, camp lights, RV power, vendor power, refrigeration systems, etc. Essentially, off-the-grid music festivals are almost entirely powered by the nonstop burning of diesel fuel.
It is difficult to get a fully accurate figure for the amount of energy used to power a single music festival, not least due to the variance in setups and equipment used. On average, however, diesel generators convert roughly 35% of fuel to electricity when running at full capacity. Efficiency falls off exponentially as generators run at 50% throughput or less). In general, each festival stage is powered by at least two generators running in tandem; both generators work at half capacity, with either generator ready to immediately take on full load in case one fails. So necessarily, most of the largest festival generators are running at 50% capacity at all times. In other words, music festival stages are gas guzzling behemoths that must run for days on end, with most of that fuel simply going up in smoke. 
Unfortunately, there is no hard data available for the amount of generators used per festival, but some sources have estimated it to be 250 generators. This equates to somewhere around 16,000 gallons of fuel burnt for a single music festival. Powerful Thinking, a think tank working towards energy management at live events, estimates 5 million liters (1,320,860 gallons) of fuel are used per year by U.K. festivals alone. 
Travel Emissions
The largest source of emissions from music festivals is without a doubt attendee travel. In the UK, it is estimated that attendee travel emissions constitutes 80% of total festival emissions overall, totaling over 78,000 metric tons of CO2. This is an equivalent emissions to driving an average vehicle for 190,709,046 miles, which is somewhere north of 760 trips to the moon, a round-trip visit to the sun, or driving at 60mph nonstop for 354 years.
It is important to note that these statistics do not account for the emissions created by non-attendee staff; that is, artists, management, contractors, engineering, vendors, and the transport of massive stages and other gear to the festival grounds. In 2015, British Columbia, Canada's Shambala Festival (17,000 attendees) measured and analyzed the emissions created by contractors, artists, etc., and found that they roughly doubled the amount of travel emissions overall. 
In expansive countries like America where traveling by car is essentially a necessity, the numbers must be extrapolated accordingly. For those following along, the global implications are terrifying at best. 
All in all, the total emissions, waste, and greenhouse gasses belched out by festivals can be equivalent to that of a moderately sized city. Glastonbury 2011 (135,000 attendees), for example, could be considered the U.K.'s 32nd largest city at the time.
What's being done about it
Though the raw data may look bleak, the good news it that there are groups and festivals already working to combat the industry's strain on the environment.
Envision Music Festival (7,000 attendees) largely centers its ethos around sustainability and environmental respect. As of 2019, they have helped plant over 15,000 trees in the Costa Rican jungle, renewing what were once depleted cattle pastures. 
Live Nation has created the Green Nation coalition, committing all owned and operated facilities and events to reducing green house gas emissions by 50% by 2030, and end the use of single-use plastics by 2021. 
The U.K.'s Association of Independent Festivals, which includes more than 60 events, has also pledged to end the use of all single-use of plastics by 2021.
Australia's Rainbow Serpent Festival (12,000 attendees) offers a whole slew of sustainable initiatives, including compost toilets and scheduled dance floor cleanup sessions, and DGTL Amsterdam (20,000 attendees) aims to be the world's first zero-waste festival by 2020. 
Electric Forest (45,000 attendees) tackles sustainability through ride sharing programs, the Electricology program, the Prize Cart trash-for-merch activities, and a slew of other educational and sustainable initiatives. 
How we can help
Perhaps it is telling that essentially all the festival emissions data pulled for this article comes from the U.K. and other European countries. Simply put, American festivals do not keep track of this information. Whether that is willful negligence or otherwise, it should be unacceptable. by continuing to attend such brands, we contribute to and approve of the decimation of the environment. 
Though it's difficult for any single individual to staunch the limitless cascade of environmental damage that occurs to the planet, and though the attitudes of individuals are out-swayed by the whims of the world's megacorps, change must start at the individual level. To that end, we can affect true change to combat the damage of our revelries. 
The way that consumers should approach this subject is twofold: changing our own behavior at festivals (no more plastic glitter, no more glow sticks, clean up your tents!), and no longer patronizing festivals that won't change theirs. The only way that our beloved music festivals will reduce their carbon footprint is if their attendees and consumers lead the way.
Brian Baker is a writer and photographer based out of St. Louis. You can find his portfolio here.