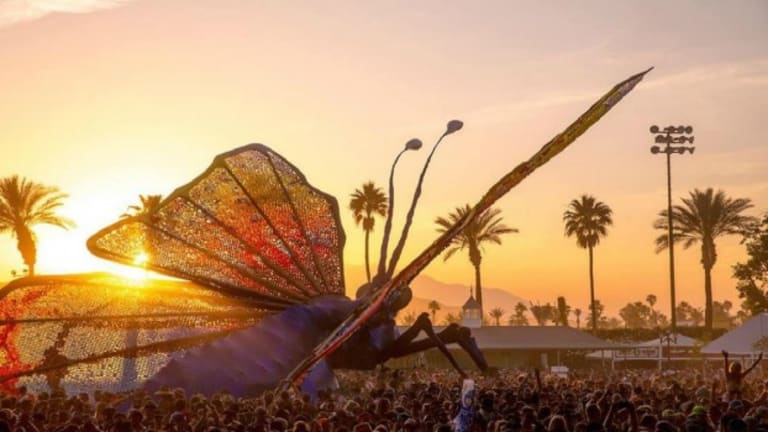 See or Be Seen: Fashion's Hostile Takeover of Coachella [Op-ED]
Is Coachella turning into Fashion Week 2.0?
Isn't it funny how on googling Coachella, a 'Music and Arts Festival' the majority of results that show up are about fashion and beauty?
Do we seem to be missing something here? A 'vanity' take over, perhaps?
Well, let's dig deeper. Coachella Music and Arts Festival is held annually since 2001 at the Empire Polo Club in Indio, California. Located in the Inland Empire's Coachella Valley, this festival has grown in leaps and bounds over the years starting from a single day festival to a three day festival hosted for TWO consecutive weekends!
Here's a fun fact though, the valley area of Coachella was supposed to be called Conchilla, Spanish for the tiny shells left behind by a prehistoric inland sea. But the printer of the town's prospectus misspelled the word, and the citizenry rolled with it. If the printer were alive today, he might be amused by his typo's desert pilgrimage to brand equity. Glimpsed in a window of an H&M store on a winter's day in Stockholm or London or New York, Coachella looks like this generation's version of "California Dreamin'," much more Monterey Pop than Woodstock.
From Bella Thorne's jeweled brow to the queen of Coachella herself, Vanessa Hudgens's dreamcatcher mane, we're rounding up the most inspiring, wildest, and all around best looks at Coachella. Or maybe not!
With major lifestyle & fashion sites which have pretty much nothing to do with music or art alike, such as Refinery29, PopSugar and Whowhatwear (just to name a few) having been dedicated Coachella tabs with a TON of articles on what and what not to wear, what and what not to do about your make-up and it doesn't even just end there. Why must they (and every other fashion brand and blogger ever!) be calling the shots on how you should be dressed to enjoy Radiohead or Kendrick Lamar? Whatever happened to 'It's all about the music'? It sure seems to be turning into Fashion Week 2.0, not so slowly and definitely very steadily!
Coachella is the ultimate "see and be seen" event of the spring with the VIP area usually jam-packed with celebrities, bloggers, models and random Instagram-famous hot people! More than ever, fashion brands are scrambling to cash in on this culturally significant moment, whether through sponsored influencer trips and weekend-long pool parties, or through dedicated festival-themed clothing collections and pop-up shops that are growing in popularity. With H & M being the only official Fashion Brand in partnership with Coachella, this has not slowed down other brands (except for maybe Urban Outfitters who got sued) from cashing in on Coachella . LA based online retailer, Revolve, is leading this movement. Few fashion companies have capitalized on Coachella fever as quickly and extensively as them; and on last Friday, for the first time ever, they opened up a members-only Revolve Social Club to the public to shop.
Today, the Standard Hotel in L.A. is hosting a 'Desert Bazaar' with a statement proclaiming "everything under one roof to create the coolest festival look... with guaranteed no flower crowns! :)" per a release. And it doesn't end there, there's also a beauty lounge where guests can get brow shaping, eyelash extensions, temporary tattoos and 'diamond bling' on your tooth. To top it off, Victoria's Secret is also holding private shopping and styling events (with Angels present, of course) for its first-ever Coachella activation — a two-day 'Angel Oasis'.
Then, of course, there's H&M, the only brand with an official partnership with Coachella itself. They debuted the second exclusive H&M Loves Coachella collection on March 16 with a live performance by The Atomics at its Times Square flagship. Last week, Nicole Richie hosted a festival shopping event for influencers and bloggers at the Hollywood Roosevelt, with proceeds going to charity. On Saturday, a pre-Coachella shopping event called Buchella is happening at the Rosenthal Winery in Malibu. And they've just been going on and on before the festival even begins later this weekend!
While fashion brands are shamelessly profiteering off of youth culture's obsession with high-profile music festivals, it has all of us asking...are we fashion victims?
On that note, here are some Do's and Don't's we'd like to share with you about Coachella dressing courtesy Fashionista and Heed. We kinda had to share this one as a Public Service Announcement if nothing else!
Call 1 (800) Basic-AF if you need help or know someone who's fallen prey to the 'Coachella uniform' trends! LOL
H/T: Fashionista