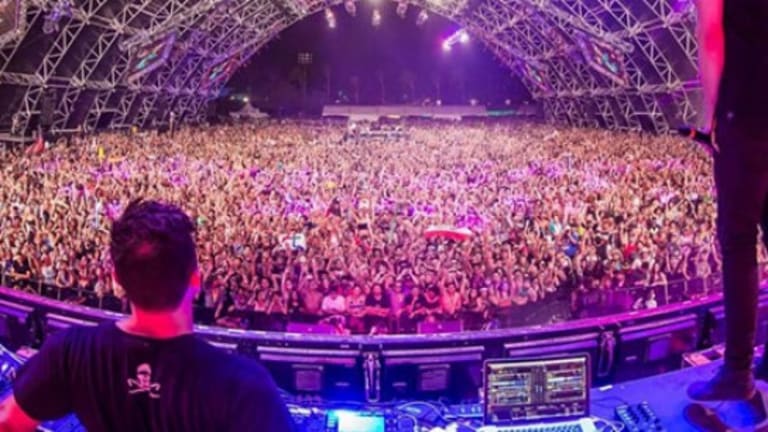 THE DJ KILLED THE ROCK STAR
Ghastly Explores The Effects of Dance Music on Rock N' Roll
Are we nearing the end of an era that has molded our society for so many decades?

Has the dance music wave crashed on the shores of our culture and began washing away anything that wasn't created inside of a computer?

This year, weekend 1 of Coachella has certainly left a dark foreshadowing that glimpses into the slow and steady death of rock n' roll.

Several instances of this occurred over the first weekend of Coachella that required legendary Grammy-winning acts to ask questions like "Are you still with us?" "Is anyone out there?" and to give elitist comments such as "Shout out to all the bands that are still playing actual instruments at this festival".

Coachella once embraced an open-minded atmosphere where music had no labels or genres. It was simply the sound that filled the sky as we danced in a calmly chaotic and serendipitous escape from reality. But now the fans that enter the gates have been slowly brewing a not so silent civil war between the 'real band' lovers who require a full group of musicians to collectively create the sound live and the 'danceaholics' who simply want to cut loose to the beat regardless of how it comes from the speakers. Walking amongst the grounds, the debate is now as common as a flowery dress or a drooling drunk. "It's not real music, he's just pressing play!" "It doesn't matter how it's made, what matters is how it affects people!" "DJs have no talent!" "Bands have no creativity!" So on and so forth.

Ultimately there is no more denying it, dance music has slowly been engulfing the festival and consistently stealing thousands of fans from almost every single what was thought to be a legendary performance. The notorious Sahara Tent at Coachella maintained a solid capacity from the very beginning to the very end of the festival and not once was there a moment in which the DJ had to ask if anyone was still feeling it. Often times, the crowd expanded so widely that the audience bled into other stages, leaving a confused look on the faces of the bands who were playing to people who were turned at a 90 degree angle watching an array of erratic flashing lights and stunning graphics melt across the LED boards paired with thick chocolatey bass and crispy beats. 

It's difficult to battle the new with the old. This evolution of sound can be adequately compared to the film industry and its progression of special effects. In the beginning, directors and filmmakers had to come up with oddly inventive and strategic ways of creating mind-bending special effects and given the current standard, it wasn't hard to wow audiences. Fast forward to the invention of CGI (computer generated images) within film; special effects are now completely unhinged from any previous boundaries. Can you imagine if movies like Avatar or Transformers were made with only practical effects? They simply would not cut it in todays world; the bar has been risen too high. We as the audience expect more and more from creators. We now have a mental requirement for mind-blowing top notch alternate realities that our brains can barely conceive. This is the standard that dance music has set for artists today.

But I digress.

Rock music will never truly die. It's a staple in the music industry, and regardless of how many more fans are swept away from the beaches of rock and into the sea of electronic beats, it will remain. But the people have spoken: this is simply the age of the DJ. And is it really so awful? Haven't bands controlled the music world long enough? The techy geeks and freaks who practiced turntablism spent decades under the crushing thumb of judgement brought down on them by self-proclaimed gods of rock who reigned supreme in the music industry for so long. Finally, the geeks have taken the flag from the hill and as of now, there is no end in sight. So instead of fighting change, let us continue to embrace this massive musical revolution. This is history in the making, and if there is one thing we have learned from history time and time again, it's that those who fight change typically are left on the dusty footnotes of books nobody will ever read again. 

Cover photo credit: Rukes

Article written by David Lee Crow AKA Ghastly, originally published April 23, 2014.


Disclaimer: The opinions, beliefs and viewpoints expressed by the author do not necessarily reflect the opinions, beliefs and viewpoints of EDM.com.