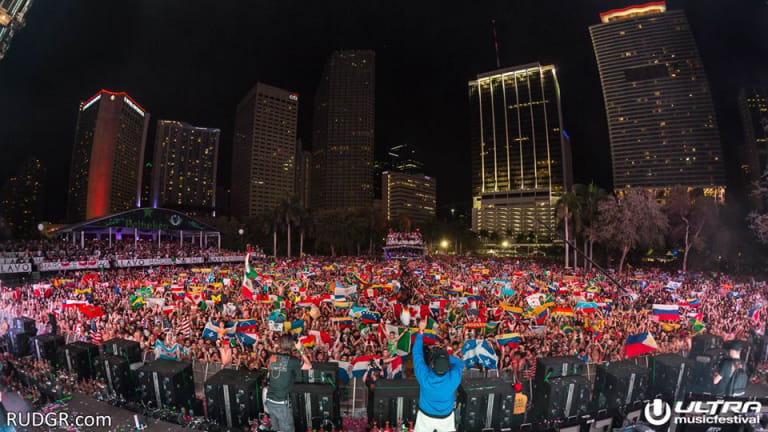 Ultra Has Proven to be the Worst Festival to Watch at Home [OPINION]
Ultra and the SHM infected its fans with the Star Wars syndrome; being over-hyped with nostalgic feelings, while it actually turns out to be a disappointment.
While some of you readers were enjoying the beautiful weather, cold drinks, and overflow of great music at Ultra Miami, millions of other EDM fans [including myself] were banished to watching the live-streams. Despite the fact that I had been looking forward to it again, halfway through day 1 I was already asking myself; why on earth am I doing this? 
Now that the weekend is finished there is only one possible conclusion; either be there next year or resist the temptation to waste your time watching the stream again.
Please Learn From Tomorrowland
Let's start on a positive note; it was great to be able to watch both days of Carl Cox and three days from the Arcadia Spider. BE-AT.TV was streaming these stages from 3 pm without interruptions. This was quite a blessing since the main channel was switching between the stages like a maniac. Like every year, it is to the anger of the fans watching for main stage sets. Who could possibly be happy with broadcasting 5(!) minutes of Slushii, Fischerspooner, or Paul Oakenfold? 
On top of that did the Megastructure stream disappear for day 3, leaving Trance addicts with the similar problem and forced them to listen to just the audio stream on the A State of Trance website. In an effort to get fair airtime next year, ASOT should just claim a live video stream as a non-negotiable requirement next year. 
In contrast to Ultra, Tomorrowland did understand that this way of streaming serves nobody's interest. Instead, they created separate channels for the four biggest stages of its 2017 edition. Especially being Ultra (the start of the festival season where everybody is premiering their fresh produced tunes) you should feel the duty to stop giving the fans at home such a ridiculous experience. Having a main channel with fan and artist interviews is perfectly fine, but do not prevent us from watching the full sets we want to. 
Insane  Sound Quality...*cough* 
My experience was not getting much better with the sound quality. Obviously you want to capture crowd responses and some of the special effects, but eventually, the music seems more important to me. However, on the live-stream, it came across as if Ultra decided to place one microphone capturing the music and crowd once. This caused the OH MY GAAAAAWD shrieking of some girls, which often sounds quite similar to a pig being slaughtered, being captured in higher quality than the Blah Blah Blah lyrics in Armin's new track.
Swedish House Mafia Remastered
For more than a week, there was absolutely no chance of escaping from coverage regarding a possible comeback from the Swedish House Mafia. Despite every EDM soul knew it was going to happen anyway, my Facebook was filled with ''BREAKING: SHM AT ULTRA OMG WHAT A SURPRISE'' kind of things at the time they actually started. Due to this exaggerated hassle, the devil in me was secretly hoping for a different stunt. How awesome would it have been when the whole world expects the SHM to return, and they eventually see the illuminated head of deadmau5 enter the stage? It will by far be the best troll ever.
But okay, I was committed to the Swedish trio and honestly curious about the new productions they would come up with. As stated by many others; they could actually trigger the revival of their Big Roomish House sound, which has been overshadowed by Future Bass and Trap-like stuff. During their set Axwell even said; 
This is not just SHM coming back together, these are three friends that have not seen each other in five years.
By saying this, he either meant coming back together in the studio, or he accidentally forgot that Axwell/\Ingrosso have been a duo for the last couple of years.
When the last notes of "One" were banging through my speakers and their set has come to an end, I was left behind full of disbelief. This ''coming back together in the studio'' thing has gone by unnoticed. How many new productions did I actually hear? Probably two or three, which could very well be from Steve Angello's new album. So everybody has been hyped up for weeks, to watch a set based on old SHM tracks, whereof every second of it has been prepared in order to sync the visuals and pyros?
By doing so, Ultra and the SHM infected its fans [including myself] with the Star Wars syndrome; being overhyped with nostalgic feelings, but in the end, it actually turns out to be  a disappointment that will never bring back the feeling from their heydays. 
SHM Reflected the Whole Experience
Looking back on my weekend watching Ultra 2018 on stream, I can actually conclude that the SHM and their Star Wars syndrome perfectly describe my experience. For weeks and months, every artist is teasing their newest productions which they will finally debut at Ultra. The whole scene actually proclaims it to be the start of a fresh EDM year, where new trends are identified first. This lead-up gets so many global EDM fans hyped-up each and every year, but these expectations have never been met by the way Ultra is broadcasting. By doing so, Ultra absolutely detracts their status as being one of the top EDM festivals. For next year; please take Tomorrowland as the example of how to treat the millions of EDM fans that will not be able to attend the real-life experience!