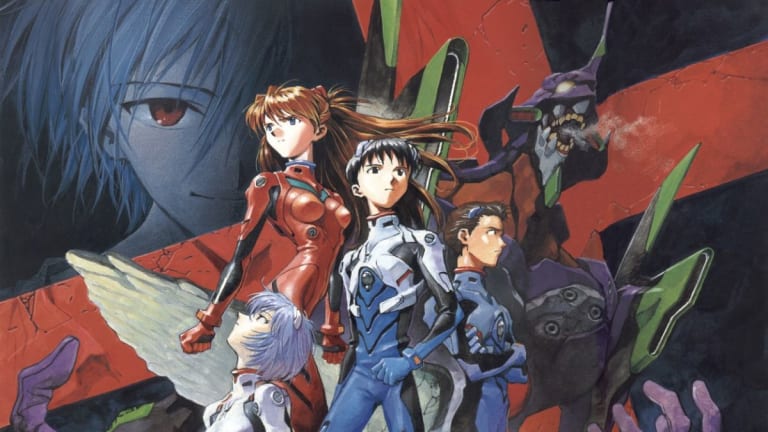 7 EDM Tracks that were Inspired by Anime
Weebs, rejoice! Here are seven tracks inspired in part or in whole by some of anime's greatest works.
In the past decade, as EDM has begun its dizzying climb towards the mainstream, so too has anime begun to receive widespread acceptance. Indeed, anime is no longer relegated to basements and shadows with its closeted fans, and it has become less weird for anime lovers to express their fandom. 
Perhaps unsurprisingly, many of today's rising EDM stars have their own love for anime, and express this infatuation through their other nerdy obsession: electronic music. Below are some of the most notable tracks that were inspired by anime.
1. "Victory Road" - Psychic Type
Vancouver-based DJ Psychic Type (real name James Lancaster) has been producing and remixing tracks since early 2012. With his sounds ranging from moombahton to dubstep and trap, his beats heavily exhibit an 8-bit feel - and his most popular tracks are heavily inspired by Pokémon, to say the least. 
Astute readers may have noticed his DJ moniker is itself a reference to the anime/videogame powerhouse. Aside from "Victory Road," Psychic Type has also produced Pokétracks like "Indigo Plateau," "Pocket Monsters," and "Mt. Goon." 
Save for those just emerging from a twenty-year coma, Pokémon certainly needs no introduction. First published as a video game in 1996, Pokémon has since seen countless anime adaptations, movies, merchandise, card games, etc., etc. It is not unreasonable to say that Pokémon is one of Japan's largest contributions to pop culture in the past century.
2 ."Utai IV: Reawakening" - Kenji Kawai (Steve Aoki remix)
Having been involved in the industry far before EDM hit the mainstream, Steve Aoki and his Dim Mak imprint have been making headlines since the late '90s and early 2000s. Never simply relegated to music, Aoki has had his (hopefully) proverbial fingers in pizza delivery, protein powder, and pre-workout, as well as comic books, smart phones, and charities.
Recently, Aoki was tasked with remixing Kenji Kawai's "Utai IV: Reawakening," for the much-maligned Ghost in the Shell live action remake. Though the song was also met with some derision (is it any surprise that anime purists would be quick to hate on an electronified version of the main theme?) the track itself has an attractive industrial beat that pairs well with the themes of the movie. 
Like others in this list, Ghost in the Shell is groundbreaking anime whose influence have spanned multiple decades, genres, and cultures. First serialized as a manga in 1989, Ghost in the Shell has seen a plethora of remakes and spinoffs. At its core, however, Ghost in the Shell deals with futuristic tech, cyberpunk, transhumanism, hacking, artificial intelligence, and the startling implications therein. If nothing else, the 1995 feature-length anime adaptation is an absolute must-see. 
3. "Fourth Impact" - REZZ and k?d
REZZ (real name Isabelle Rezazadeh) is one of the fastest-growing names in electronic music today. Producing and uploading since 2013, Rezazadeh released her initial EPs through OWSLA and mau5trap in 2015, and her debut studio album in 2017.
With a similar timeline to REZZ, k?d (real name Patrick Cybulski) began his career as a remix artist in 2015. Cybulski has since collaborated with artists like Wolfgang Gartner and has most recently released his EP, Find Paradise.
Released in 2017, "Fourth Impact" is an overt reference to the anime Neon Genesis Evangelion. Created by studio Gainax, and first airing in 1995, Neon Genesis Evangelion is one of the greatest greats in anime history. Broadly speaking, Evangelion's plot revolves around world-ending cataclysms, giant bio-mechs, alien invaders bent on destroying the earth, and arcane shadow organizations helping or hindering those ends. It is psychological, technological and philosophical sci-fi perfection, and its effect on pop culture and beyond cannot be overstated. 
4. "Akira" - Ekali and KRANE
Ekali (real name Nathan Shaw) is a Canadian-born DJ/producer who has worked with electronic music since 2014. Having collaborated with heavy hitters like Skrillex, ZHU, Troyboi, and many, many others, Shaw's collab credits are as impressive as they are numerous. 
KRANE (real name Zachary Krane) rose to prominence via collab with TOKiMONSTA and Anderson Paak in 2015. Since then, he has released several full-length albums, including Debris, SESSIONS, and Fallout. 
In 2017, Ekali and KRANE collaborated on their trap and future-bass track, "Akira." No doubt an homage to the movie of the same name, the track has garnered widespread praise and attention, including from self-proclaimed anime lover Alison Wonderland. 
For any anime buff, Akira needs no introduction. Another great house in the mythos of anime, Akira is widely considered one of the greatest feature films ever made in animation, sci-fi, cyberpunk, and Japanese history. Set in 2019, it has a delightfully depressing cyberpunk setting rife with military-industrial complexes, neon tech, and bio-engineered horrors. Those who haven't had the chance to see this masterpiece should rectify that immediately. 
5. "Shindeiru" - Virtual Riot
Virtual Riot (real name Christian Valentin Brunn) is a prolific DJ/producer based out of Germany. Since 2011, he has released seventeen EPs and one studio album under labels like OWSLA, Disciple and Monstercat, among others. Brunn's genres are varying, with most of his music firmly in the dubstep and riddim family. 
Brunn's track "Shindeiru" is a reference to the line "omae wa mou shindeiru," which is a much memed quote from Fist of the Northern Star, meaning "you are already dead." The anime focuses on a master martial artist whose attacks capitalize on the body's pressure points. Upon releasing his special attack, the protagonist utters "omae wa mou shindeiru," before his shocked opponents inevitably explode. Fist of the Northern Star first aired in 1984, and as of 2018 the series was one of the highest grossing media franchises of all time, with over $20 billion in franchise revenue.  
6. "Shelter" - Porter Robinson and Madeon
No anime-EDM list would be complete without mentioning American producer Porter Robinson and French producer Madeon (real names Porter Robinson and Hugo Pierre Leclercq, respectively). Both producing music since before they were 13, Robinson and Leclercq  "were kind of rivals" at a young age. Since those days, the two have worked together closely, forming a strong friendship from their rivalry. 
In August of 2016, Robinson and Laclercq released the massively popular track, "Shelter." Two months later, Robinson released an accompanying music video, produced by the anime studio A-1 Pictures. The video is a six-minute anime short-film that explores themes of loneliness, as its protagonist and last human in the universe floats through space in a forced cryosleep. 

7. "One More Time" - Daft Punk
Legendary DJ duo Daft Punk (real names Guy-Manuel de Homem-Christo and Thomas Bangalter) have been producing music since the late '80s. Originally focusing on rock, their first project was the guitar group Darlin', named and styled after the eponymous Beach Boys song. After a spurning review calling their music "daft punky trash," Homem-Christo and Bangalter split off and began developing the personas and music for which they are famous today.
Much like "Shelter," Daft Punk's "One More time" was not inspired by a single anime; rather, the entire album was created as an homage to the duo's childhoods. Discovery was in-part inspired by old-school anime like Force Five: Grandizer and Captain Harlock. With this in mind, Daft Punk brought their concept album to Japan in hope of working with their childhood hero, Leiji Matsumoto, creator of Captain Harlock. 
The result of their collaboration was Interstella 5555: The 5tory of the 5ecret 5tar 5ystem, a feature-length anime whose entire dialogue, soundtrack, and most sound effects being comprised of Discovery. Thus, the album was inspired by, but also inspired its very own anime film. 
Brian Baker is a writer and photographer based out of St. Louis. You can find his portfolio here.