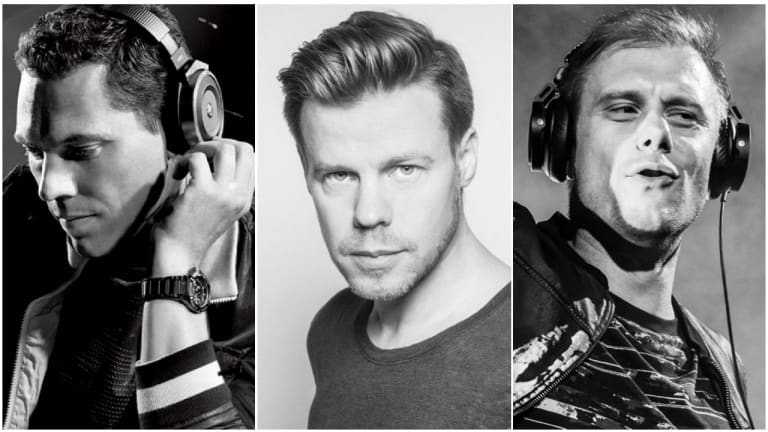 8 Rock Crossovers by Trance DJ/Producers
These remakes and remixes of rock classics came from some of the biggest names in trance.
Great rock remixes are not only awesome to listen to; they are significant to the history of electronic dance music as they opened up new audiences to earlier forms of EDM as we know it at a time when rock was king. This was especially the case when classic trance was on the rise and artists like Paul Oakenfold and Tiësto were becoming household names, relatively speaking.  
In the 2017 EDM documentary What We Started, Oakenfold talks about when U2 asked him to be their opener on tour after his "Perfecto Mix" of "Even Better Than The Real Thing" outperformed the original. This was unprecedented and a significant occurrence for legitimizing electronic music artists in the public eye. Oakenfold rose to the occasion and won over crowds by working and reworking classic rock songs into these opening sets. 
Here, we will look at eight remixes or covers of rock songs from some of the biggest names in trance, in no particular order:
8. U2 - "New Years Day" (Ferry Corsten Remix)
The U2 classic from their 1983  album War was remixed by Ferry Corsten in 1999 and made a huge splash on dance floors worldwide during a peak in trance's rise in popularity.   
7. Muse - "The Resistance" (Tiësto Remix)
Tiësto's remix reimagined Muse's original huge synths and kicks, a tall order considering how epic the original is on its own. Listen for the awesome use of guitar power chords for the transition around 5:40. Also, if you like Muse, definitely go see them live.
6. Dash Berlin ft. Do - "Heaven" 
This 2016 remake of Bryan Adams' "Heaven" is the second major EDM cover of this rock hit.  It was first redone by DJ Sammy and Yanou and featured the same vocalist. This Armada Music label hit brings back plenty of nostalgia while introducing new audiences to the classic song with modern production and sound design.  
5. Van Halen - "Jump" (Armin van Buuren Remix)
This Armin van Buuren remix was recently released in May of 2019. Per EDM.com's coverage of the live debut of the track at Ultra Music Festival, "with Roth's background and appreciation for the genre, it's no wonder Armin van Buuren received his blessing on this remix effectively outfitting this classic rock anthem for the modern dance music era."
4. Sia - "California Dreamin" (Arctic Moon Remix)
While the iconic 1966 version of "California Dreamin'" performed by the Mamas and the Papas is the most well known, it is actually not the original version. The song, written by John and Michelle Phillips, was first recorded by Barry McGuire. Fast forward to 2015 and Sia performed an emotionally epic and cinematic cover for the film San Andreas. Enter the trance elements and drops by Arctic Moon and its epic status has reached new proportions.  
3. Depeche Mode - "It's No Good" (BT Remix)
Back to the late '90s when synth rock legends Depeche Mode received the BT treatment of their hit "It's No Good" in short order after the original release. While this may be considered more progressive house than trance, it still maintains a signature classic BT sound with its arpeggiated breakdowns.  
 2. Filterfunk - "S.O.S. (Message In A Bottle)" (Sander van Doorn Remix)
The original 1979 Police song was written by Sting and remade as a dance track in 2006 by Filterfunk, one of Sander van Doorn's aliases. He then remixed it under Sander van Doorn, portraying his fast, dark tech trance style.  
 1. The Killers - "Read My Mind" (Gabriel & Dresden Remix)
While The Killers' second studio album Sam's Town will never quite reach the legendary status that Hot Fuss did with "Mr. Brightside" et al, the album is solid in it's own right and "Read My Mind" had a good run on the charts. Around this time Gabriel & Dresden were peaking in their career as well with hits such as "Tracking Treasure Down." The Killers and G&D provide a nicely congruent sonic intersection as both their sounds have their respective indie influences and melodic synth-based feels.