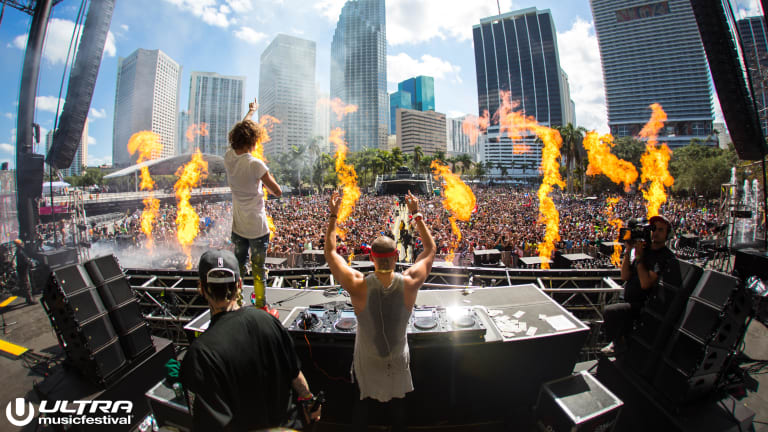 Cheat Codes' Took Over Our Spotify in Preparation for EDC
Featuring music from Marshmello, Post Malone, RL Grime and a bunch of Cheat Codes' own tunes.
Electric Daisy Carnival Las Vegas is is this weekend, one of the year's biggest electronic music festivals. Apart from a stellar lineup, creative stage design, and larger-than-life atmosphere, the festival stands out for its dusk to dawn hours. The festival ends as the rose-pink light of the sun fills the sky, a surreal experience.
Playing the sunrise slot on early Sunday morning is breakthrough trio Cheat Codes. The LA-based group of Trevor Dahl, Kevin Ford, and Matthew Russell has been buzzing, working with celebrated artists like Nicky Romero, Fetty Wrap and Demi Lovato, touring with The Chainsmokers, and steadily releasing their own exciting singles and remixes. This week, they will be taking over our Spotify for a special pre-EDC playlist, sharing some of their own tunes as well as personal favorites.
Known for their playful blend of EDM, hip-hop and pop, Cheat Codes has been veering more towards electronic music production recently. Their upcoming Level 1 EP, slated for a June 8th release, aims to showcase their burgeoning electronic sound.
Their latest single "Balenciaga," gives a taste of what's to come. Led by smooth vocals from their own Trevor Dahl, the song starts slow and atmospheric, before culminating in an explosive, energetic drop. Emphatically blending R&B with big room, it's made for the dancefloor.
"I Love It," the next track off the EP, is out this Friday. A collaboration with DVBBS, it's set to expand Cheat Codes' electronic music style, moving towards something lighter and more melodic.
Until then, get familiar with their music, and what they're listening to: