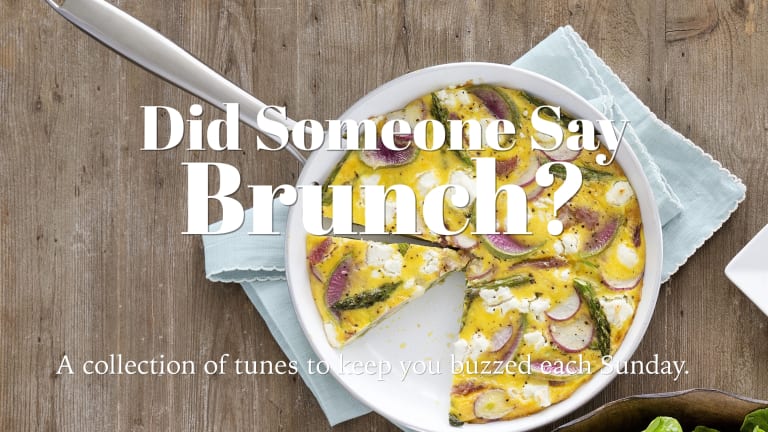 Cure Your Weekend hangover with Did Someone Say Brunch?
How to spend your Sunday 101.
Sunday is always the best day for being really lazy, and no-one can blame you, especially when you're still hangover from partying all Saturday night. Luckily we have the best receipt for your hangover, 20 handpicked tracks perfect to get you vibin', as well as a recipe for a Spring Vegetable, Ham, and Goat Cheese Frittata. 

INGREDIENTS
8 large eggs
3/4 c. heavy cream
3 oz. ham, chopped
Kosher salt and freshly ground black pepper
2 tbsp. unsalted butter
1/2 lb. asparagus, trimmed and cut into 2-inch pieces
6 radishes, thinly sliced
4 scallions, sliced
1 garlic clove, finely chopped
4 oz. goat cheese, crumbled
DIRECTIONS
Preheat oven to 350°F. Whisk together eggs, cream, ham, 1 teaspoon salt, and ½ teaspoon pepper in a bowl.
Melt butter in an 10-inch oven-proof nonstick skillet over medium-high heat. Add asparagus and sauté until crisp-tender, 2 to 4 minutes. Add radishes, scallions, and garlic and sauté until scallions are just wilted, 1 to 2 minutes.
Reduce heat to medium. Pour egg mixture over vegetables and cook until eggs begin to set around the edges, 3 to 4 minutes. Sprinkle with goat cheese. Bake until set, 15 to 17 minutes. Serve immediately.
Till next time, enjoy!
Recipe courtesy: www.countryliving.com
Photo Courtesy: Christopher Shane