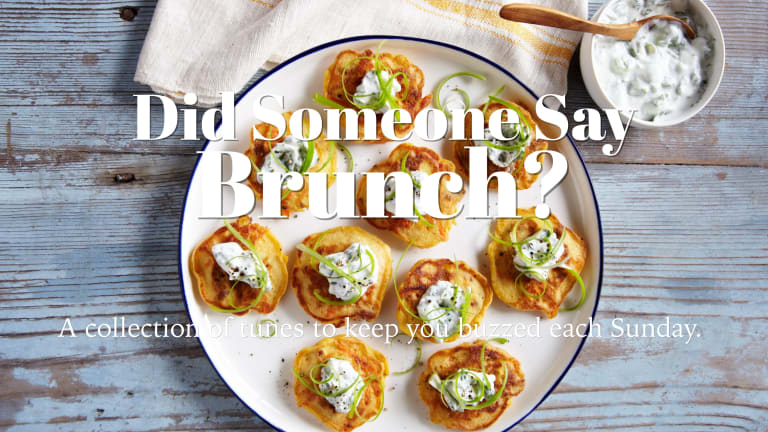 Cure Your Hangover With Did Someone Say Brunch? [PLAYLIST]
As always, this is the place to go looking for new gems.
Just woke up and still hangover from Saturday night? Looking for some cool tunes to spice up your Sunday while you make brunch and prepare yourself for some all-day hangs? Did Someone Say Brunch? provides you with the best, handpicked gems each week as a delicious brunch recipe to prepare while you vibe. 
This week's recipe is Carrot Chorizo Blini: 
Ingredients:
3/4 c. plain Greek yogurt
1 scallion, chopped, plus more for garnish
2 tbsp. Chopped fresh cilantro
1 1/2 tsp. fresh lime juice
Kosher salt
Freshly ground black pepper
1/2 lb. fresh chorizo sausage, casings removed
1 c. all-purpose flour, spooned and leveled
1 1/2 tsp. baking powder
1 1/2 c. coarsely grated carrot
1/2 c. Buttermilk
1 large egg
1/2 c. amber beer
Olive oil, for griddle
How to make it: 
Stir together yogurt, scallion, cilantro, and lime juice in a bowl. Season with salt and pepper.
Heat a large non-stick skillet over medium-high heat. Add chorizo and cook, stirring occasionally, until browned and finely crumbled, 6 to 8 minutes. Drain on paper towels. Cool to room temperature.
Whisk together flour, baking powder, ¾ teaspoon salt, and ½ teaspoon pepper in a bowl. Stir in chorizo and carrots. Whisk together buttermilk and egg in a separate bowl; stir in beer. Stir buttermilk mixture into flour mixture until just blended and smooth.
Heat a griddle or large nonstick skillet over medium-high heat; brush with olive oil. Pour about 1 tablespoon batter for each blin onto griddle. Cook until tops are covered with bubbles and edges look dry, 2 to 3 minutes. Turn and cook until plump and cooked through, 1 to 2 minutes. Place pancakes in a single layer on a baking sheet, and keep warm in a 175°F oven up to 30 minutes. Repeat with remaining batter.
Serve dolloped with yogurt mixture and garnished with scallion.
Till next time, enjoy!
Recipe courtesy of Marian Cooper Cairns