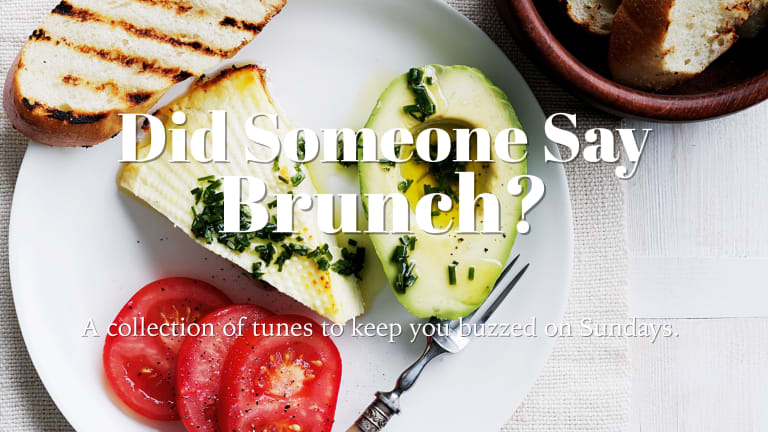 Get In The Mood with Did Someone Say Brunch? [PLAYLIST]
Another Sunday, another series of vibes.
Sunday mornings are the weirdest. You don't know if you're really hangover from last nights partying or just tired because you didn't get a lot of sleep. You don't know if you're cause you had a ton of fun yesterday, or sad because it's Monday in less than 24 hours. 
Luckily we have just about everything you need to have a chill Sunday: some of the best handpicked vibes to get you in the mood as well as a delicious brunch recipe. 
This week's recipe is avocado platters. 
INGREDIENTS
450g wedge fresh ricotta cheese
2 teaspoons olive oil
1 teaspoon sea salt
2 large avocados, halved, deseeded, peeled
4 small vine-ripened tomatoes, sliced
4 slices sourdough bread, chargrilled
DRESSING
1 1/2 tablespoons extra-virgin olive oil
1 tablespoon lemon juice
1/2 teaspoon caster sugar
1 tablespoon finely chopped fresh chives
1 tablespoon finely chopped fresh basil leaves
METHOD
Step 1: Preheat oven to 200°C/180°C fan-forced. Line a baking tray with baking paper. Place ricotta on prepared tray. Drizzle with oil. Sprinkle with 1/2 teaspoon sea salt. Bake for 35 to 40 minutes or until golden. Set aside for 20 minutes to cool.
Step 2: Meanwhile, make dressing: Combine oil, lemon juice, sugar, chives and basil in a jug.
Step 3: Slice ricotta into 4 wedges. Divide ricotta, avocado and tomato between plates. Drizzle avocado and ricotta with dressing. Season avocado and tomato with pepper and remaining sea salt. Serve with toast.
Till next week, enjoy! 
Recipe courtesy: taste.com