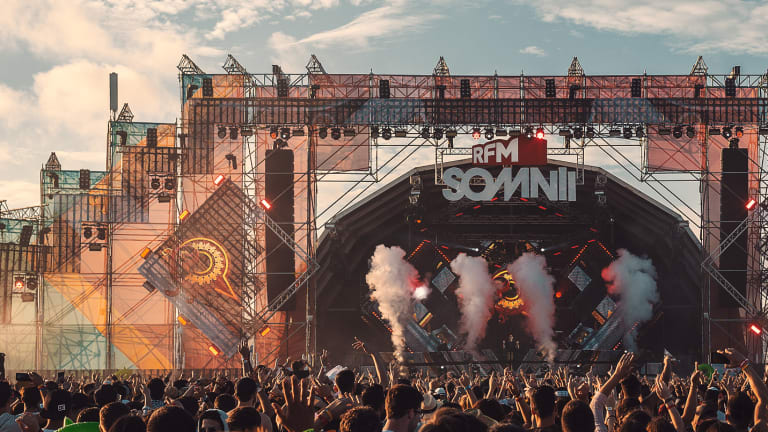 Europe's Biggest Beach Festival, RFM Somnii, is Aiming to Take Things to the Next Level
EDM.com talked to Andras Berta, new Head of International Strategy for RFM Somnii, about his plans and ambitions.
Over the years, countless new festivals and promoters with fresh concepts have appeared. They sometimes find success and build strong brands, while also oftentimes fail to meet the live music industry's high standards and are overshadowed by more ambitious efforts. No matter how long the build period takes, once a strong brand and experience is established around an event, there is always need and desire for more acts, attendees, and overall provision of the best possible fan experience. 
This case has really been the main concern and occupation for Andras Berta, the new Head of International Strategy for beach festival RFM Somnii. The huge event is taking place for the seventh time in Portugal's Figueira da Foz on the 5th-7th of July. Headlined by names such as DJ Snake, Don Diablo and Afrojack, as well as for the first time featuring mainstream-oriented acts like Tyga, Ozuna and Redfoo, RFM Somnii prides itself on providing a top-notch, diverse summer experience. It's something that, among other factors, has contributed to the festival's success; in 2018 it saw an impressive 120,000 attendees. 
"There are two areas I'm looking at," explained Berta, who aims to expand the brand name and create an international festival that will last for the years to come. "Developing the festival itself to make sure it has clear USPs that build on its existing comparative advantages, and also building up a system of foreign agents (sales and communication) to represent it efficiently on our key markets." 
This is a task he has already performed at various other festivals, Sziget Festival in Hungary being among them. "Since 2010, when Sziget approached me, I'm in the festival scene, mainly focusing on international marketing," explained Berta who is confident in his ability that comes through years of experience in the festival industry. "I've worked with 5-6 events since then, in Hungary, Romania, Italy and now in Portugal."
It's Berta's first time working on strategies for RFM Somnii, he is going to be highly engaged during the actual event days. Aiming to create a more refined campaign for next year's run, his "main work this season at the festival will be getting to know the festival itself, in all details." He explains that he will "basically go through my own study tour and plan to check out every venue, every service, talk to many of the staff and guests, etc."
This higher purpose is already being applied this year with the added lineup diversity. "Once the fans are in, we can show them all our added values, why we're different, maybe even better than other events where you can find a similar lineup," Berta said. He believes the deciding factor for bringing in more attendees from the entirety of Europe for the years to come is the actual diversity of the performing acts. "This year the festival is getting more colorful regarding the genres and that's great news for my area. We're trying to build up the most exciting mix of programs, venues and services." 
Berta is being hopeful this wider range of headliners in conjunction with his ever-refined strategy will add a more unique flavor to the festival. Among the struggles and risks involved in maintaining a large festival, he said, are "lots of investment due to the ever-rising artist fees and lots of risks due to the fact that they're mainly open-air events." 
However, since he is aware of the risks and stakes involved in organizing an event of this massive scale, Berta strongly believes it is worth it. "The stakes are high, but that's also the beauty of it," he explained. "These big babies are the ones that can really get you out of your comfort zone and experiencing a different life for a few days... which is the main point of festivals for me," he said. 
RFM Somnii is taking place 5th - 7th of July in Portugal's Figueira da Foz. Tickets can be bou here. 
Follow RFM Somnii
Facebook: facebook.com/OMaiorSunsetdeSempre
Instagram: instagram.com/rfmsomnii
Twitter: twitter.com/rfmsomnii
Website: rfmsomnii.com/en